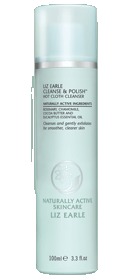 For a couple of weeks I've had a sporadic dialogue via email with Liz Earle. Now, don't get me wrong…I've nothing against the brand per se. They are totally open on their site about using parabens in their skincare and don't make claims to be organic (other than where they do actually use organic ingredients). My problem with Liz Earle is that when you google (UK) the search term 'Organic Skincare', Liz Earle pops up second. Now, I feel that is misleading and misdirecting people who are looking to use organics on their skin, as it is categorically not an organic beauty range. The Liz Earle response has largely been waffly, but out of the flowers I have dug the weeds. Without permission to publish them verbatim, the bones of it is that talking to people already looking for and interested in organic ingredients gives them the opportunity to share their philosophies and ingredients because they believe them to be high quality and to give positive benefits to the skin. I question the use of the word 'talking' (their word) for a start. What do you say? Is this okay, or is it sneaky SEO that sends the skin care lost deliberately in the wrong direction?
NB: One comment I had regarding this issue explains a little bit more about Google and SEO:
"The placement of the Liz Earle link in this case is something they pay for per click, it is part of the google sponsored links section rather than SEO – which is an organic link – a much more democratic way of rating websites.
The rule is… If the link is included in the feint beige box at the top, or runs down the right hand side of the page, it is paid for by the company who has to actively bid against other companies to place it there. The links below the beige box are there because:
a) they have regularly updated, relevant content to the search terms you have used.
b) a lot of people have searched that term and then clicked on that link i.e. voting with their feet."
Transparency Disclosure
All products are sent to me as samples from brands and agencies unless otherwise stated. Affiliate links may be used. Posts are not affiliate driven.