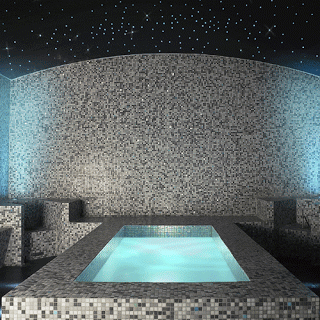 Yes, there are some perks to the job sometimes! I've just come back from a flying visit to Le Spa Villa Thalgo Thalassotherapy Centre in Paris to get an idea of the Thalgo range. Thalgo has been in existence since 1964 and you need to know that at its core is the use of sea water and marine algae. It's good for your body in a million and one ways but my goodness, it is pungent! If you ever wanted to know what the underside of a pier might smell like, this would be your best ever clue. 
Even though I'm not much of a spa gal (far too impatient to hang around while someone flicks oil or flaps cloths at me), I've got to admit to being impressed at the Spa. Packed with enviably toned French ladies – of all ages, I might add – it really is the height of luxury. It's got a small pool where I saw a brutal aqua aerobics session in place and any number of treatment rooms including an Aquatic room as well as a sauna with a cooling pool right in the middle. I'd forgotten what a sauna does to your hair, especially when the steam is infused with salt. You. Have. No. Idea.

 

Terrifying hair aside, I had a gorgeous scrub and moisturising massage that left my skin beyond soft before I was sent to the Aquatic Room. Basically, it encompasses a hydro-bath with a million and one jets to soothe and massage the body and you boil quietly in this cauldron of goodness while watching a moving seascape on the giant screen. Initially, my practical self couldn't get past the fact that because it's on a loop with great waves crashing onto a beach followed by a sunset and the added 'interest' of two seagulls waddling about in the sand, I just kept wanting something else to happen..a passing boat perhaps,

 

a couple of dog walkers wandering into camera or for the seagulls to catch a fish/mate/attack! In fact, I kept thinking I would never last the full 20 minutes, but thanks to the pre-boil massage, I actually did find myself gazing slack-jawed and mesmerised by the strangely hypnotic rhythm of the film. 
After that, it was time for the Algae Pouch. Now, I've got to confess I let myself out of this, much to the consternation of the therapist who squeaked a bit to discover her steeping mass of an algae covered client gone (I was in the integral shower, so hadn't actually run from the building). She'd covered me neck to foot in very pungent algae and wrapped me in a heated cocoon to leave me to soak up the iodine and minerals that the algae is extremely rich in. But, the smell was too much and I got rather too hot. Given that my hands were tucked by my sides, it was something of a Houdini exercise to extricate myself. This was followed by a lovely massage (that I had asked to be shortened from 25 minutes to 15). Throughout the entire treatment, I was constantly asked if I'd like tea or water and despite the language barrier the therapists were thoroughly attentive and professional. Also, thanks to the language barrier, I didn't have my normal compulsion to chat and ask them how they are etc. 
After a brief break in which I had a pot of tea – and was offered a macaroon (cake at a spa….you see, I said it was good!) before having a very specialised lifting facial. Using a series of pinching movements, the therapist worked on my neck and face to give a lifting effect – the only bit I didn't like was being left to lie in the dark for 20 minutes with cold strips of infused cloth on my face – but the facial was something of a minor miracle as it left my jaw line as taut as when I was twenty. By the end of my time at the spa, I did feel pretty chilled out and delighted with how lovely my skin looked and felt. If you do have a Paris break, I'd more than recommend this place as somewhere to completely unwind and come out feeling rather better than when you went in. Oh, and while I'd been told of the detoxifying benefits, it was quite something to experience the effects – I went for a pee no less than six times in three hours!
Transparency Disclosure
All products are sent to me as samples from brands and agencies unless otherwise stated. Affiliate links may be used. Posts are not affiliate driven.