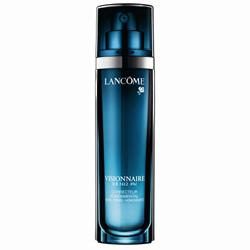 This is Lancome's latest in-road in the battle to keep our skin looking younger for longer. Containing the new plant extracted beauty molecule, LR2412 (so named because it took 2412 attempts for Lancome scientists to get it behaving in the way they needed it to), the product claims to reach the deepest layer of the skin to trigger a healing process. It's also an exfoliating formula, and will tackle pore size, wrinkles and texture by boosting the skin's natural capabilities. There is  a lot of science with this product, and the particular molecule seems to be quite a find in skin care terms with 17 patents. In fact, when blind-tested independently (by the same crew who tested Boots Protect & Perfect), it was found that it did do exactly what was claimed – which is to trigger a signal to begin skin healing when damage occurs. And that's where I'm stopping before I start to just repeat the press release parrot-fashion because it's gone beyond what I can genuinely understand. 
But, while I love the sound of this new cream and its potential, I'm not loving the adverts one little bit. "Discover a skincare so powerful that over half the women who used Visonnaire chose to delay lasers, fillers and peels." *Tested on 34 Women. What, like by a week, a month, a year? Who knows. And 34 women doesn't seem very many to me.. especially as only half thought they'd delay a visit to the needle. I'm trying to think what questions were asked of the test group that would lead to that claim. I don't think the 'over half' women used the cream and independently announced, 'right, that's it, I'm going to put on hold any further measures because of this all in one serum.' They would have to be asked specifically manipulated questions. Yet another report I read says that Lancome carried out a clinical study of 108 women of Hispanic, Caucasian, Asian and African origin. Furthermore, the ads in Singapore have a whole other number chart – initially the ad states it has been tested on 450 women, but when it comes to the actual results, these claim to be tested on 80 women. Arghh.. 80, 108, 34, or 450??  Apparently, the full Visionnaire test programme featured 800 women and then were sub-categorised. But, you know? I'm so flipping confused by trying to read between the lines that I've kind of given up really. Can't we just hear it how it really is? And, again, what about the other half of the test group who may have said, 'No way! I am not cancelling my botox appointment on the basis of this.' This molecule was 12 years in the researching.. don't waste it by not being open and trying to muddle different parts of the world with different stats. It's the same cream.
Transparency Disclosure
All products are sent to me as samples from brands and agencies unless otherwise stated. Affiliate links may be used. Posts are not affiliate driven.