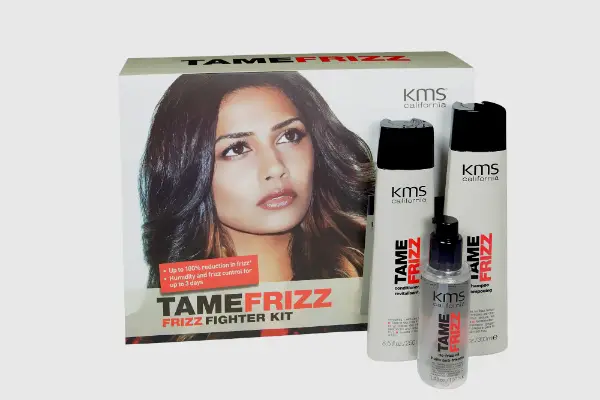 I'm posting a little early on this one – I'm supposed to wait for three days to see if it lasts the promised three.. but I'm so impressed after one day that I can't hold back.
I'll give you the press release info on how it works because I can't really explain it any better myself, but what I can say is that, on this damp, grey old day there is not a trace of frizz on my hair. That's after a dog walk on the heath at 7.30am for an hour and then travelling all the way to Hammersmith and home again with the threat of rain heavy in the air all the time. Even if this only lasts one day, I'd still be totally converted. So here's the 'how it works':
"The De-Frizz System (GlycylGlycine, Silicone Quaternium-22, Phenyl Trimethicone) improves the hair's internal structure and smoothes the hair's surface. Internally, the De-Frizz System strengthens the hair structure and increases pliability, helping to calm frizz. Externally, the De-Frizz System smoothes the cuticle and reduces the visible effects of frizz. The combined effect tames hair and improves the way the hair lies, letting it fall more naturally into place.
Featured ingredient Pequi Oil is an antioxidant-rich Brazilian fruit found in the Amazon, high in vitamin A and E which is known for taming frizz. Acacia is a tree cultivated in Africa and Australia, rich in sugar derivatives with moisturising properties, known for smoothing and increasing pliability."
So, the products I used (last night) were the shampoo, the conditioner and the de-frizz oil. I would say that the shampoo doesn't give that 'squeaky' clean feel.. it almost feels like it is coating the hair slightly and took some rinsing out. The conditioner was fine – softening and easy to rinse, while the serum is just pretty much like any other in texture. However, any worries about the shampoo not giving that clean feel had totally gone by the time I blow-dried. My hair just looks like it would with my regular shampoo.
My hair is normal to dry, and does get dreadful frizz in the wrong weather conditions. Ironically, the worst frizz of my life was actually in California, where KMS Tamefrizz comes from!
Prices are as follows:
TAMEFRIZZ shampoo –Prepares for frizz reduction (RRP £12.70),  TAMEFRIZZ conditioner – Smoothes and reduces frizz (RRP £13.50), TAMEFRIZZ smoothing lotion – Detangles and manages frizz (RRP £14.95), TAMEFRIZZ taming creme – Controls frizz with light hold (RRP £14.50)TAMEFRIZZ de-frizz oil – Fast-absorbing, lightweight oil that controls humidity and frizz for up to 3 days (RRP £14.50). It's available from KMS stockists salons but haven't been able to find it on line yet.
Transparency Disclosure
All products are sent to me as samples from brands and agencies unless otherwise stated. Affiliate links may be used. Posts are not affiliate driven.