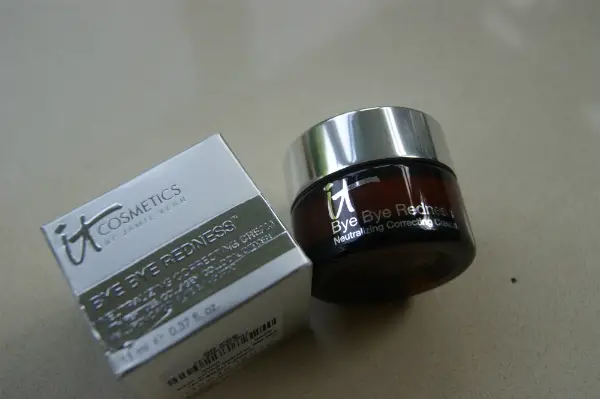 This brand, It Cosmetics, is being RAVED about across the US and Canada, so I had to try some for myself. Not as easy as you might think because they're impossible to communicate with. I've emailed them, I've tweeted them – they don't reply – ever! And, I'm only trying to ask if they ship to the UK, not asking for product! I can't stand a brand that only talks AT and not WITH on social media… where's the social in that? Eventually, their US PR did get back to me to tell me there is no shipping to the UK option. Gah.
However, it's completely ringing true that it's selling like hot cakes – my sis had a heck of job getting some in the US and got the second to last pot from Henri Bendell ($32). Infused with aloe, peptides, collagen, oatmeal and hyaluronic acid, I have to say the stuff is genius. I don't have a great deal of facial redness so I concentrated on parts of the face, such as round the nostrils, where natural redness or discolouration can occur. It basically wipes it out. And, didn't do a bad job on under eye circles either although there is a separate product in the line-up for that.
The cream, because of its consistency, is super-smooth on application (it feels a little dry at first), and crucially doesn't do what a lot of concealers still do – cling to or exacerbate lines and pores. It's so well-pigmented (but only comes in one shade) that there is just nothing left of redness or discolouration whatsoever and the ingredients will actually soothe and treat redness while the pigments cover it up. No wonder everyone is raving.
So, unless you have a friend heading to NYC or you're off there yourself, our nearest neighbour to this that's available in the UK is the wonderful Dermablend, which is a fraction of the price and does a very comparable job.
Transparency Disclosure
All products are sent to me as samples from brands and agencies unless otherwise stated. Affiliate links may be used. Posts are not affiliate driven.