Okay so there is a play on words in the title of this collection from Illamasqua that gives an immediate clue to the inspiration behind the range. I'mperfection (or I'm Perfection) is based on turning traditional notions of beautiful on its head. It's really a collection with a very positive message about how we view what is and isn't beautiful and that perfection is actually rather boring.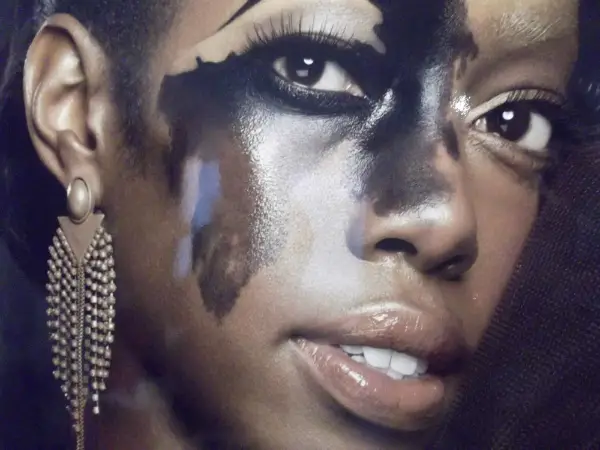 I've chosen to start this post with a picture of one of their models, Jo, who has a large birthmark across her face. Alex Box has exacerbated the mark using artistry to create a dramatic picture that could not be less about the birthmark and yet is all about it. You see the mark, but because you think it's make up, suddenly it isn't an imperfection any more. It's art, design and creativity. Better that all imperfections were given such terms of reverence? Life would certainly be easier for those with them if that were the case.
Here are the much anticipated Speckled Nail Varnishes. if you can't decide, go for the blue – I think it is the prettiest when it is on the nail. They're £14.50 each.
The 'specks' are unpolished, matte glitter, and it is a very effective nail effect. Another great effect we picked up is the Feather Liner – to do it yourself at home, just use a black eyeliner in a line how you would want it, then dot over the top first with black (Precision Ink is good for this in Abyss) and then dot over with white (I've just learned that Illamasqua do one – Scribe). I think it would look pretty amazing with some neon pink thrown in the mix there, as well.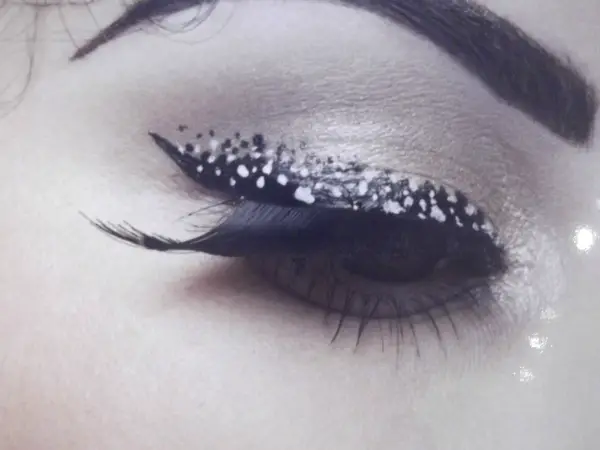 I've covered the Powder Blushes in a previous post with the new Blush Up Brush (work it upwards on the cheek instead of circling), so I'll go straight to Intense Lipgloss in Leaf Green.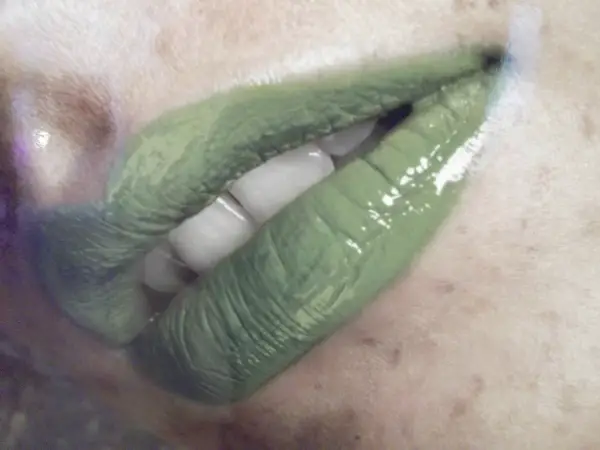 If you've ever secretly hankered to be in the cast of Wicked, this will bring you one step closer. For the rest of us, erm. Maybe not.
I did try it on, actually, and it looked every bit as awful as I thought it would! But, it's not for people like me – it's for those who love to express with statements and the same people who loved wearing Illamasqua's Teal lipstick will embrace this and no doubt look absolutely amazing!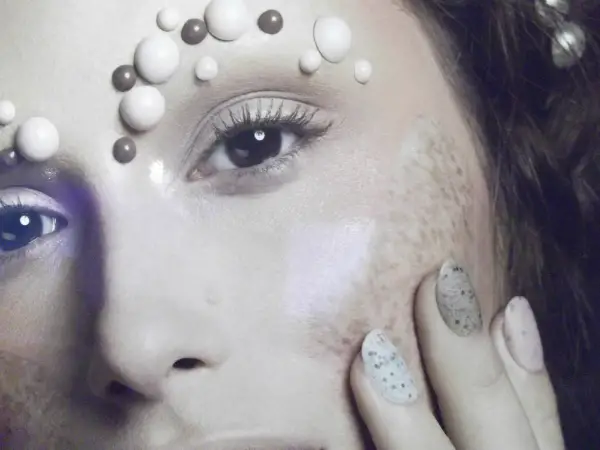 This is my favourite piece of imagery. I love that leaving coverage off Frankie's cheeks let them, and her beautiful freckles, come through to form a striking feature on their own. It's really stunning.
I think what Illamasqua have done here is commendable.. they're bringing a collection of images to challenge perceptions (still not enough for my liking) – and they really will do so. But I'm going to stick my hand up here for bloggers and say that I think the old perception of perfection as the traditional glossy mag ad/department store model is already being challenged pretty well by bloggers and vloggers who come in all shapes and sizes and have already proved over and over that difference very often makes no difference. I salute the 'be proud who you are' theme, but I say, we're already doing it and are responsible in great part for the perceptions of pretty being challenged daily. Julian Kynaston, founder of Illamasqua, gave a lovely quote, "If there wasn't any ridiculous etiquette I think that a good number of so called weeds could win the most beautiful flower contest hands down." Can't put it better myself.
Transparency Disclosure
All products are sent to me as samples from brands and agencies unless otherwise stated. Affiliate links may be used. Posts are not affiliate driven.