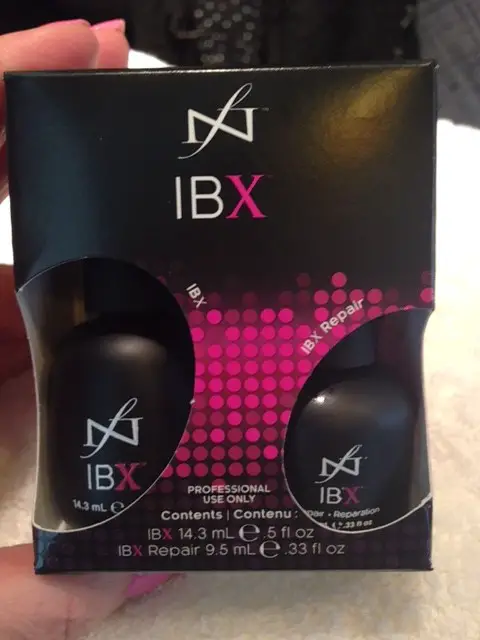 It takes quite a lot to get me to go for a treatment, but when I heard that Marian Newman is taking a residency at Josh Wood Atelier, you could practically see a vapour trail – I couldn't get there quick enough. I had thought I was going for a manicure with Marian, but she recommended the new IBX Repair treatment for my flaky nails. There isn't anything else like this on the market (unfortunately it's for pro use only at this stage, but it can't be too many moons before a home version is thought up) and I wouldn't even question whether it works if Marian says it does – she's the one working with it all day.
So, IBX works as a two part system – one to protect the nail from damage, and one to strengthen the nail. It needs curing with LED lights and the difference with IBX is that it penetrates the nail so works inside it rather than on top and forms a kind of matrix internally to fuse the upper layers of the nail together and stop the flaking. It's not really all that time consuming; it needs heat (from a heated lamp) and then curing under a UV and my nails were SO in need of this, because I change my polish so often that I have knackered my nails. It's also a very good treatment for nails that have had enough of gel polish, or to bring them back to life a bit.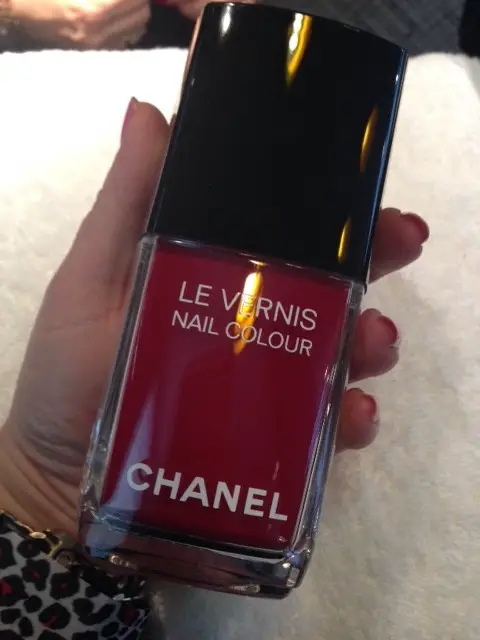 Chanel are just coming to the end of their pop-up at Josh Wood, so I couldn't resist the opportunity to clasp the biggest nail polish bottle ever!
So, to the Atelier. It's a very, very cool space – looks like a house (painted black) and has an anonymous door that gives it an exclusive club feel, but inside – it's manic! The Atelier is in a quiet little street just behind Holland Park Tube station so you don't really know it's there. They've coined themselves an 'anti-salon', and that's true.. it's nothing like a salon in the sense that we'd know it. You really do feel you're at a special location – kind of edgy Parisian club type of thing. Inside, I can see they've gone for light and spacious but you know, it's the little things that count – no handwash in the (messy) loo (there was a shower gel instead), a crowded entry/exit space and harassed staff that made it feel a little bit stressy. On the plus, there are personalised ipad playlists, concierge services and a menu with all kinds of delicious food and smoothies. Strangely, given this is a big plus, I was asked if I would like something to drink but had no clue there was even a menu – it wasn't offered as an option, so I plumped for a Diet Coke and was perfectly happy with that.
There's no doubt that it is a very innovative space – you definitely feel you are in on a secret – and I think they're the first salon to offer the first-aid nail treatment from IBX. Marian's team is totally a draw – the manicure space is compact but feels very private and comfortable. All in all, if you're up for a treat (because this salon is expensive), I think you would leave feeling you'd had a special experience if you take advantage of (or are offered) all the extras.
ATELIER LANSDOWNE
6 Lansdowne Mews
London W11 3AN
Transparency Disclosure
All products are sent to me as samples from brands and agencies unless otherwise stated. Affiliate links may be used. Posts are not affiliate driven.