The final launch of the day was the Hugo Boss Just Different event. And boy, was it different. After a mysterious invitation that indicated that if you don't like heights, you'd better say no, a car picked me up from the hotel straight from Givenchy and I was whisked off to a grassy area next to Tower Bridge. I didn't even notice the cranes at first.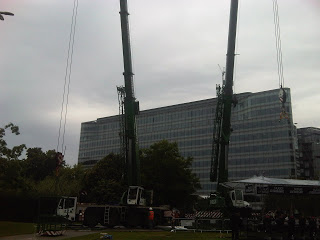 Note the looming skies! Basically, the premise of the launch was to do something really different in keeping with the name of the new fragrance. They got that right.. because we ended up having dinner in the sky.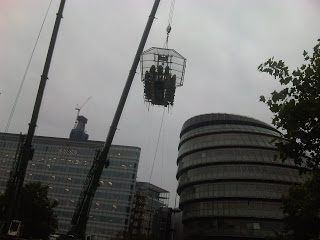 Up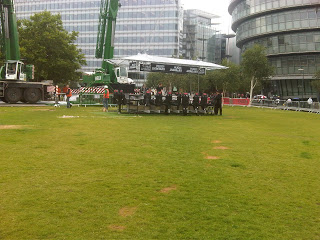 Down
So, we were all strapped into harnesses before being hoisted 50 metres into the sky. In the middle of the..erm..contraption..was a cooking station although much of the (delicious) food had been prepared in advance. There were three staff serving wine and food while we dangled in the air. I'm not at all afraid of heights but looking down gave me a slightly wobbly moment: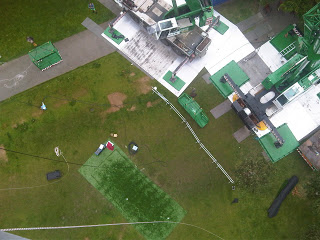 Eek
But because this is England, we had to contend with rain and wind; we came down once to pick up blankets and manfully headed back up again into the elements to the main course (lamb). I've got to say it was really, really amazing – it's nothing like anything I've done before or will probably do again, so experience wise, it was spot on. The weather though was totally against us and apart from a very hardy threesome who went back up again, we came down straight after pudding and ran back through the rain to the tent for some hot drinks, still bundled up in our blankets.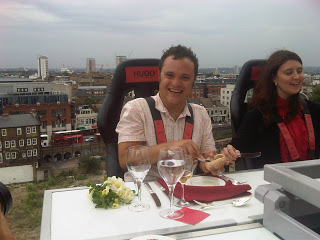 Grant from Basenotes trying not to be weirded out by buttering a roll in mid air.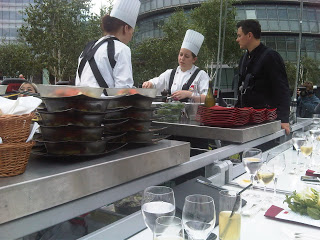 The Chefs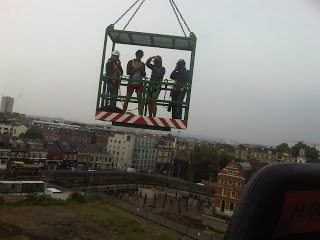 The photographers in a separate cage dangling from the other crane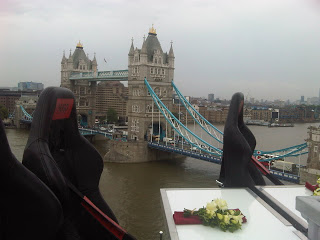 The view!
In amongst being suspended mid-air, being battered by wind and drenched by rain, I did manage to get a whiff of the fragrance – unexpectedly traditional. There's been a big trend for male fragrances to use feminine notes and while I do love that because it's so sexy, Hugo Just Different is distinctly male. Although the heart is fruity floral, I didn't pick up that at all but did pick out the mint in the top notes and the base of wood and amber. Again, surprisingly, there is patchouli in the bottom notes..lost on me I'm afraid. My overall impression is of a really blokey fragrance that's miles away from the new frilly for men and a definite return to all things manly.
It's a PR nightmare to host an event that relies on good weather only to have it pour with rain, but even though I must admit to some serious shivering, it was something I'd have done in the snow just for the experience of it. Fun times..now a hot bath!
If you want to see more about the Dinner In The Sky, check it out here: 
http://www.dinnerinthesky.co.uk/
Transparency Disclosure
All products are sent to me as samples from brands and agencies unless otherwise stated. Affiliate links may be used. Posts are not affiliate driven.