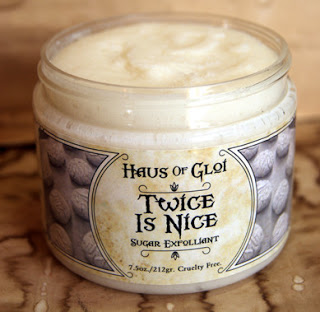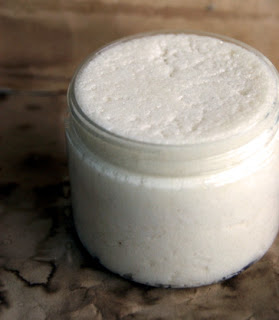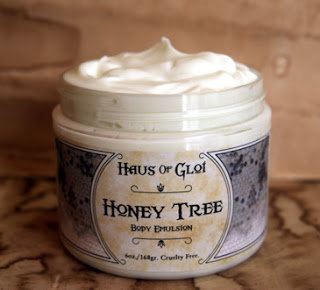 I finally caved after listening to other bloggers on Twitter absolutely ADORE this scented body range and bought myself a good selection from Haus of Gloi. If you don't know the range, it's a home-made vegan formula made by two vegans in the USA with an exemplary attitude to speedy shipping and customer service that other brands could take a tip or two from. The fragrances of the products are whimsical, with names such as Moondog, Depravity and Imp. I chose Aduwa Bubbling Scrub, described as hot ginger over benzoin and creamed coconut, which I absolutely loved – in particular the formulation of Bubbling Scrub which is something I haven't come across before. Basically, it gives a good exfoliation effect as well as creaming up beautifully into a foamy body wash that leaves skin silky and soft. However, that was my one brilliant choice. I picked Lavender Sugar Body Lotion, and although I can readily pick up the lavender scent, it is virtually drowned by the sugar and vanilla. I felt like a walking cake. That said, my goodness, it does moisturise! I also picked Peach Mama Sugar Exfoliant – an excellent exfoliator, but once again, way too sweet for me. With three sample sizes and two full sizes, the only one I can really bear to have on my skin is Aduwa because they are so highly fragranced, and if I'm blunt remind me of DisneyesqYe Olde food shops – all apple-pie, cinnamon and vanilla, and I'm not truly a foodie-scent person.
That said, I would really recommend these products. Although I didn't love the fragrances I chose, if you do love them you get extremely good value for money in terms of scent longevity and product performance. If you do want to try Haus of Gloi, then the Bubbling Scrubs are the absolute winners for sheer pleasure of use. I'd strongly recommend buying the generous sample sizes first ($2) to really get an idea for which is your 'flavour'. www.hausofgloi.com
Transparency Disclosure
All products are sent to me as samples from brands and agencies unless otherwise stated. Affiliate links may be used. Posts are not affiliate driven.