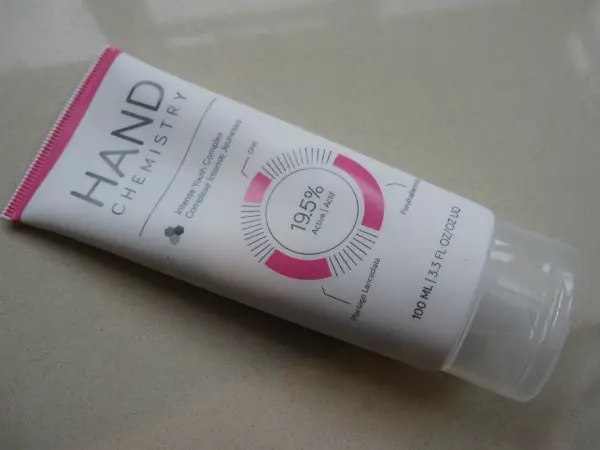 I love a hand cream – it's a handbag essential, although I would have to say that I am not the best at remembering to be regular about applying it . I usually carry a little L'Occitane one in my bag. A couple of weeks ago, I was told about Hand Chemistry (from Deciem, the same people who brought you the Fountain formulas) and given the ten day challenge. The promise from the brand is that your hands will be transformed in ten days. So, I have been (nearly) religious about applying this twice a day because if it's true, then it's £20 of anyone's money well spent.
Just for the hell of it, I used it for ten days on my face as well, because a) I've never, ever used a hand cream on my face, unsurprisingly, and b) because it if is so transformational, then I want it on my face as well!  I can't recommend that you do the same – it's a scented product and my skin had no issues with it at all, but it was my experiment.. not a green light for everyone to start plastering it on their faces!
So, the results: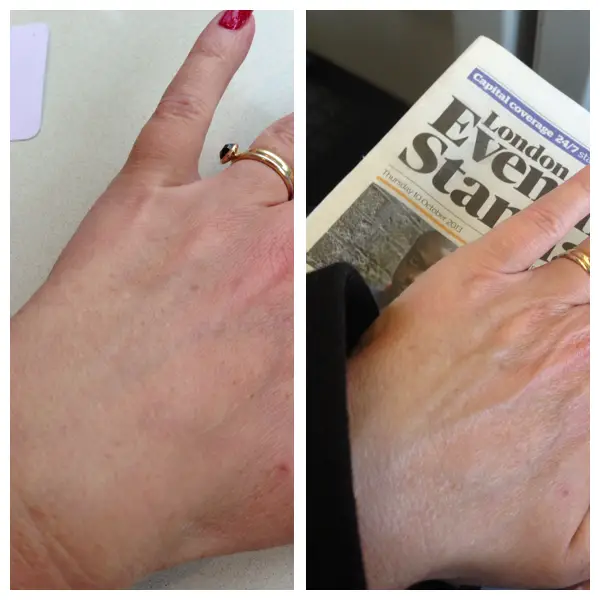 The first picture is AFTER and the second is BEFORE. I know it should be the other way round but try telling my silly picture app that.. it won't  have it any other way. I've tried really hard to keep the same conditions but obviously the lighting will be slightly different. Either way, yes, Hand Chemistry has made rather an incredible difference. Mostly to hydration and smoothness, and the effect happens as soon as you put the cream on and pretty much stays the day unless you are deep in washing up with no gloves. So, the ingredients pulling the punches here are Biological GHK or copper peptides to you and me, and plantego. Biological GHK is a phenomenally expensive ingredient and makes some massive claims – to rebuild skin, repair wrinkles, restore glow, reduce skin laxity and more. It's also got Tremella Fuciformis Sporocarp, shown to be 400 times more moisturising from Hyaluronic Acid. But, you know, brands shove in whatever they want.. it's the results and not the ingredients I am interested in.  
So, what about my face?  The hand cream certainly kept it completely and totally hydrated and as you might expect had a barrier cream feel to it. My skin certainly didn't suffer any detrimental effects from it (although, once again, it's my experiment.. don't do it at home!) and I have caught myself looking in the mirror thinking my skin is looking very glowy and smooth. All in all, I'm totally impressed. It's had a sneaky launch already on Boots.com  for £18.99 (HERE) but not actually in stores yet – unless you know different? Basically, when I get a resupply, I'm going to be slathering it all over my body!
Transparency Disclosure
All products are sent to me as samples from brands and agencies unless otherwise stated. Affiliate links may be used. Posts are not affiliate driven.