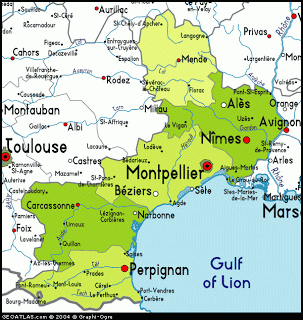 Sorry, where? I don't know France terrible well and know very little of the Languedoc-Rousillon region other than it is a mercifully short 1 hour and 20 minutes on a plane from London Gatwick. I'm on a press trip to look at three spas in the area and so far we are blessed with sunshine. Thank god! 
Generally, on a press trip, it isn't a case of 'here's your lounger', you do have to put the time and effort in to learn about where you are and what is different about it, so today, the first day, has been a long old day – but it could not be in a more beautiful place.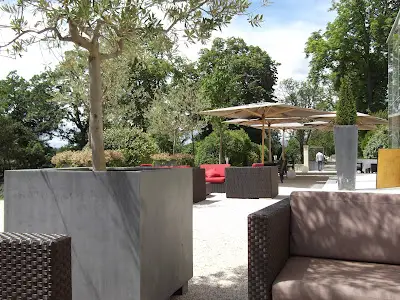 On the Terrace at Domain de Verchant
We are at the Domain de Verchant, fifteen minutes drive from Montpellier airport, and set in the Southern France countryside. Behind us the Verchant Vineyards; in front, a beautiful and huge garden. More compelling though are the comfortable seats at the front of the spa where you can just sit and soak up the sun. Tomorrow, I'll be having a couple of treatments, and if you are a regular BBB reader, you'll know it isn't my favourite thing to do.. but am prepared to surrender!  We've just had a talk about the region which is situated between Provence and Spain so no wonder the weather is good. It isn't a big region (200km of coastline), but it is considerably cheaper than its more trendy counterparts on the Riviera and home to six World Heritage sites. 
The Domain de Verchant is stunning; dating back from 1582 and has (obviously!) undergone considerable and recent renovations; my room is the old stable block – you would never know a horse lived here!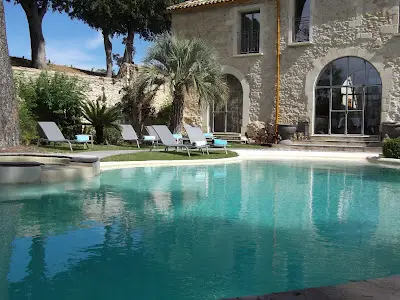 The outdoor pool
While it is totally not my remit to 'sell' a hotel or spa to BBB readers, I'm already quite in love with the region and hotel because it is SO easy to get to for a perfect do-nothing sunny bolt-hole and easily do-able for a weekend. The spa is beautiful – quite compact – and uses luxury products like Anne Semonin and Valmont – and the focus is on well-being. Here's where I think British women differ in their beauty thinking; for us, a visit to a spa is often an absolute treat and it's usually done for pampering reasons rather than the wider picture of well-being. French women, it seems, consider facials and massage as crucial to their well-being and almost an essential rather than a luxury. There's a very beautiful little outdoor pool at Domain de Verchant where you can lounge around and dip in to cool off, but the spa pool is the one where the length crunching is done. Terrifyingly, there is a big bucket of ice outside the sauna so you can fling cold cubes over yourself. Chance of that? Nil.
I'd recommend this place in a heart-beat; significantly more economical than further up (or is it down?) the coast, absolutely beautiful (lavender, vineyards, green fields) and if the cakes are anything to go by (choux pastry filled with rose cream) excellent at food as well. What we are also here for is to look at the burgeoning beauty industry that the South of France is becoming well known for.. particularly this region. Tomorrow we'll be shown a host of beauty ranges, but I've already spotted Little Big Bio, which is a favourite already.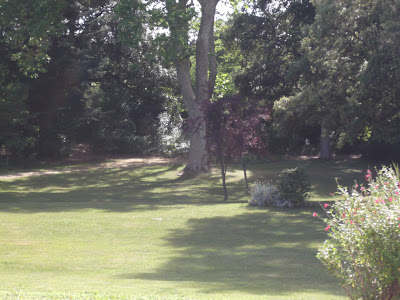 The grounds to walk round if you really must get up off the sun lounger…
I would never, ever have thought to visit this area, and I'm so glad to be here and very much looking forward to our onward journey. It all might change tomorrow once my face has been mushed and squished and oiled… 
Transparency Disclosure
All products are sent to me as samples from brands and agencies unless otherwise stated. Affiliate links may be used. Posts are not affiliate driven.