The second launch of my day – handily in the same hotel – and with a real wow factor. The room was set up like a chemistry lab, complete with dry ice and goggles (we didn't have to wear them) to launch the new Vax'In Serum, which is impressively black (but obviously doesn't stay that way when rubbed in). The reason for the black colour? Black Algae Sap Concentrate. 
I go to a lot of launches where the brands claim to be dredging the ocean for mysterious algaes and must admit to wondering whether there is one central lab that does all the collections for everyone because the sea cannot surely be clogged with teams of beauty brands all fishing for weird slime? I love the idea of a Givenchy boat bobbing about a few hundred yards from a Chanel and just around the bay a few buoys along a big, fat Estee Lauder dredger. But, I suspect it's not like that at all.

Anyway, back to Givenchy. Briefly, the Black Algae Essence works on the premise that like skin, algae has a lot of aggressors to fight and algae extracts can help skin to combat those – things like wrinkling, skin slackening and the way that cells communicate with each other. The Essence is an interesting texture – super-soft to the touch and very easily absorbed. Stats say that radiance improves 35%, wrinkles are reduced by 31%, skin is 25% firmer and 96% of testers noticed a brighter complexion after 4 weeks of use. How much store you set by stats like these is up to you – personally I find them hard to equate to real life.. I could never estimate a % reduction in wrinkles on my own face: they're either less obvious or they aren't. That said, the essence is particularly impressive.
Back to the launch with black canapes, silver meringues and test tubes aplenty! Here are the pictures: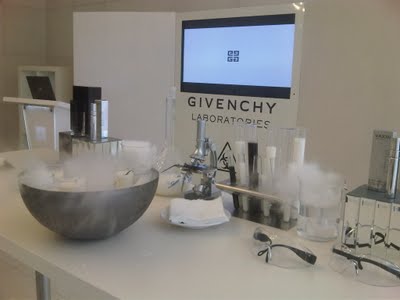 Back at the lab…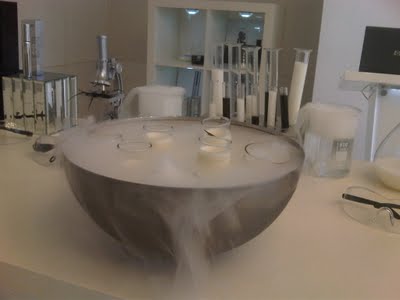 Mysterious concoctions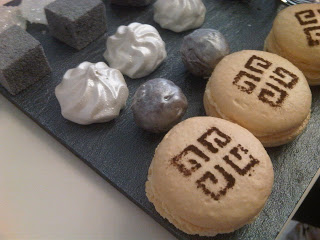 Givenchy Macaroons.. I die..
Canape Menu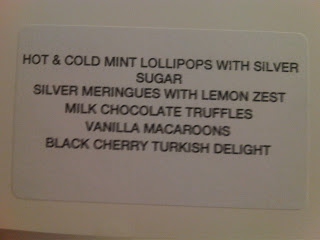 Canape Menu 2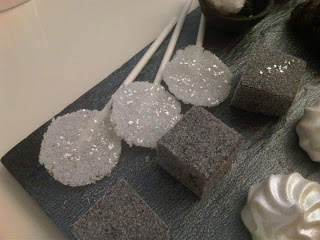 Hot and Cold Mint Lollipops.. the best!
Transparency Disclosure
All products are sent to me as samples from brands and agencies unless otherwise stated. Affiliate links may be used. Posts are not affiliate driven.