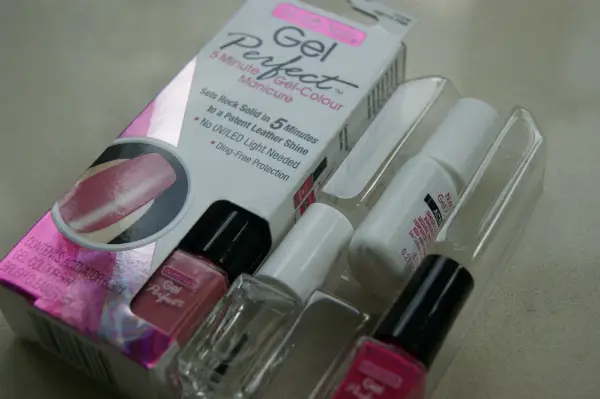 I went into the launch of Gel Perfect with my cynic's head on. They claim a UV/LED Light free gel-colour manicure. So, everything's in the wording. As you can see from the picture above what you get in a pack is a polish, a brush cleaner and the activator solution.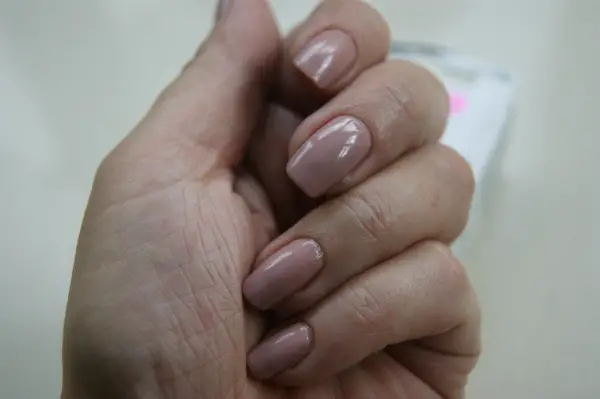 You can see straight away that you do get a very 'gel' look with this in terms of polish density and then polish shine. So, the process is that you apply the activator coat to three fingers on one hand then paint over the polish. The do the other two fingers and repeat. Go on to repeat on the other hand.  Clean your brush and repeat the steps finishing with an activator coat before the polish is completely dry.
That's it, you're done. It really is very quick, despite the dancing about with what fingers are done and which aren't.. you need to concentrate! So while you do get a near-perfect gel look, you won't get the gel longevity with this. It doesn't claim to last any longer than regular polish (although to fill in chips is extremely easy).
The colour selection for the UK (it's already launched in the US) is a little disappointing – no red for a start and that's pretty much a basic for any nail line – there are far more colours in the US. This is going into Boots in September so they must have made the colour choice for the stock – really Boots? No red? I think to be honest, I'd like more choice than there is – it's all pretty safe. However, what I do need to say about the colours is that they are much better on the nail than they look in the bottle. Someone next to me was having her nails done in a pink that looks a bit grey in the bottle but came out the prettiest bubblegum shade. Likewise, my colour, Vintage Mauve above, comes out a lot cleaner looking than it looks in the bottle and is a lovely nude shade.
So, Gel Perfect will cost £14.99 – the bottles are really small so you can expect about 8 applications from this (if you compare to salon gel nails, that's a bargain, but then they don't last as long – swings and roundabouts here!). Because it's Boots though, I don't expect it will be long before there are some offers around.
Gel Perfect Remover
They've even come up with a no mess remover that will remove Gel Perfect and regular polish.. which is a neat idea.
If you're nail-curious it's a must-try just for the novelty of it. I am delighted with the result – my nails do look like Gel nails, but must flag up these were professionally done and I haven't had a chance to try them myself at home yet.
Transparency Disclosure
All products are sent to me as samples from brands and agencies unless otherwise stated. Affiliate links may be used. Posts are not affiliate driven.