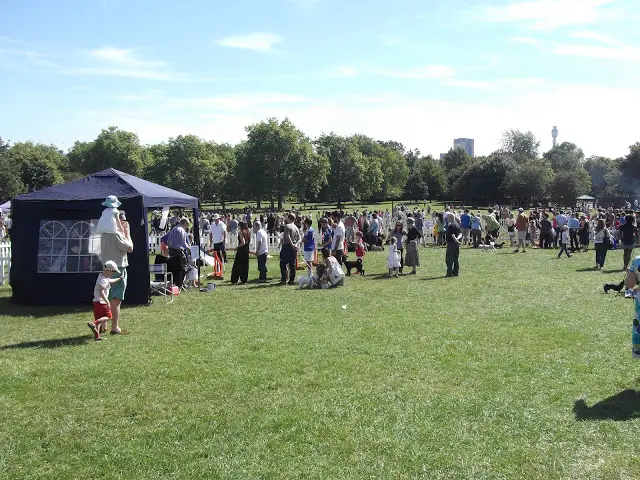 Regular readers of this blog will know I am a dog lover through and through and cannot bear any form of cruelty to animals. So when I was invited to Pup Aid 2012 to help judge a dog show, I was on it like a shot! You can insert all the jokes here, but my judging category was Prettiest Bitch. Pup Aid is a fun, family show to raise awareness of the dreadful practice of puppy farming. If you check my tabs above you can read my story on puppy farming.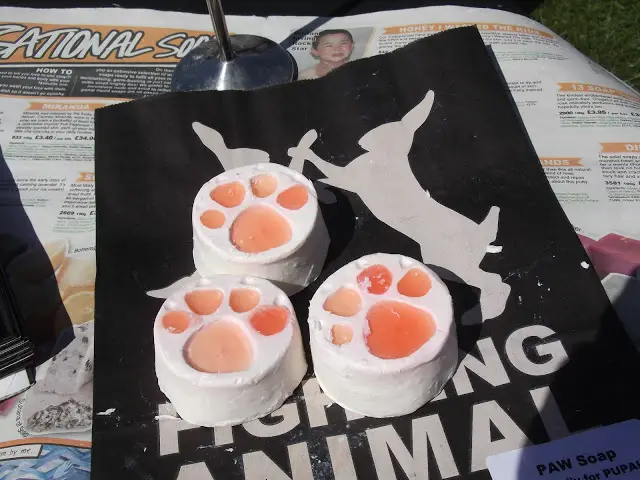 Limited Edition Paw Soaps with all profits to Pup Aid on the day
For the first time, Pup Aid was held on Primrose Hill in North London, with shopping, food and charity stalls as well as agility, fun competitions and doggie related samples galore. I have never before been to Primrose Hill, but wow.. so pretty and the houses surrounding it.. I suspect you need billions! Anyway, several celebs dropped by to say hello, including Ricky Gervais and either Noel or Liam (sorry, I still can't tell) but I missed them all other than someone from Towie and Meg Matthews. Annabel Giles compared (beautifully) with TV Vet Marc Abrahams. Marc is a massive supporter of the anti-puppy farming campaign and it must be said that he works pretty tirelessly on it. My fellow judges included Sascha at http://www.beautygeekuk.com/ and Sarah Jane Funnel from Lush.
So, the judging. This is not funny. AT ALL. It was a scene straight from James Herriot novels with about twenty dogs entered, all genuinely hoping to win a rosette. From the sneaked in pedigrees (it's really for 'scruffs') to the cute little girls who've tied pink bows on their dog's collar, to the serious show-offs and the deadly serious dog lovers who are utterly convinced that their dog is prettiet and tell you so! How on earth can you choose? It was a very tough choice – we wanted to split third because there were four dogs but that wasn't allowed and anyway one turned out to be a pedigree, so in the end we just opted for our favourites and legged it as soon as the rosettes were given. Blimey. Our winner was a gorgeous, sleek little black dog who actually had been rescued from a puppy farm.
It was a wonderful experience (maybe not so much the judging!) and I have to leave on a little word about puppy farming and why it is so important to stamp it out. Puppy farms exist literally to breed puppies: bitches are put through a rigorous breeding programme, having far more puppies than they are ever meant to, many more times than they are ever meant to. They live in huge sheds, often with no lighting or heating and in cramped and over-crowded conditions. Puppy farm breeding dogs often know no human kindness in their entire lives and the inter-breeding means that they pass on genetic conditions to their puppies who are sold, while they suffer on with no vetinary treatment whatsoever. Dogs used on puppy farms are quite literally 'stock' and also quite literally breed until they die or are unable to breed further in which case you can guess the ending. Pup Aid's main message is never, never buy a dog unless you can see it with its mother and siblings. Do not fall for the old 'mother is at the vet' routine or 'out on a walk' lie… just don't do it for the surest way to end puppy farming is to cease demand. So, that means don't buy your dogs from the internet, from back pages of free papers or window notes..unless you can actually see the mum and the puppy in a proper domestic situation. More often than not, illness will swipe your new puppy away before your next bank statement appears, and no matter how cute and lovable your new puppy is, the pay off is that there is a breeding bitch beside herself with exhaustion living an indescribably horrible life. It cannot be worth it. 
Transparency Disclosure
All products are sent to me as samples from brands and agencies unless otherwise stated. Affiliate links may be used. Posts are not affiliate driven.