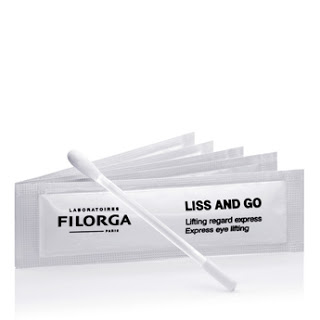 Okay, I've tried – really tried – to get my head round this intensely complicated brand. And, to be fair, the lovely PR has done her utmost to tailor products to my requirements, but I can't like it. Billed as 'Cosmesotherpie' and based around the principles of mesotherapy, I just find it crazily complex and disappointing. Faced with the releases that explain how it works (it's supposed to be 'injections in a jar') my brain goes into switch-off mode with words like poly-revitalizing and micro intra-dermal….Ingredient wise it has a hefty dose of hyularonic acid – always good – and something called NCTF – a mesotherapy cocktail containing 55 ingredients – oh, and Chronospheres – whatever they might be. I've just tried Liss & Go sticks – and bearing in mind this entire range is supposed to be as good as the proverbial injection – which are supposed to tighten and plump the eye area. It didn't. Not even a bit. I had asked for something to test that was an 'instant' effect because I'm not ready to do a long term trial on another skincare brand (still rather in love with BioEffect). The only feeling after about five minutes was a slight tightening which didn't translate to anything visible on the face – or so fractionally that I can't even see it. Very disappointing but a salutary call out to brands who make massive claims (and 'injection in a jar' IS a massive claim) that we're over it. Yet again, I will say there is NO such thing as cream or serum that will give anything like the effect of injectables, instantly or long term, so it is a truly objectionable and misleading sell.
A lot of bloggers will empathise with me on this one I think – I actually feel very guilty that it didn't work for me and that I don't like the product or it's philosophy because I know the PR did her level best. But, the nature of blogging is such that if you aren't prepared to be truthful, however difficult it is, then it doesn't provide a proper reader service.
Transparency Disclosure
All products are sent to me as samples from brands and agencies unless otherwise stated. Affiliate links may be used. Posts are not affiliate driven.