It's been a long old day today, starting with a blow-dry in central London at silly o'clock in the morning before heading off with a team from Garnier plus camera crew and make up artist, Kenneth Soh, to Carnaby Street in Central London. We were doing mini-make overs for the Garnier YouTube channel using the new BB cream (well, Kenneth was expertly doing them – I can't be let loose with a foundation brush) and sending our volunteers away with a goodie bag as a thank you.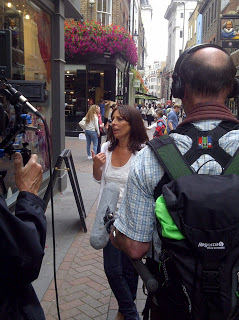 Me, explaining what the heck we are doing to the camera!
Of the twelve beautiful ladies we made over, not one had heard of a BB cream, so I had plenty of explaining to do! It was super-awkward dragging people over to take part – everyone thought I was trying to sell them something and I was paranoid they'd think I was from Victoria Jackson! In fact, sometimes I was a little frustrated, because even when we weren't doing make-overs and were literally just handing them a free BB cream, people were saying no thank you and hurrying past.

Everyone from the make-overs had the chance to say exactly what they thought of the product and not one single one didn't like it – whew! We had a couple of really funny moments: a fabulous girl had the make over and afterwards we asked her a couple of questions, such as 'Do you like the feel of the product?' But she started every sentence with 'No'. As in, 'No, it's really good'! And, 'Do you like the way it makes your skin feel?'. 'No, no. It feels really soft'. I'm afraid I got the giggles. I also was a little taken aback when a Spanish lady who spoke no English at all came up and asked (gestured) for a product. We obviously couldn't do a make over on her, because of the language difficulty, but I had to try and explain what it was for. I think I've invented the international sign language for 'glowy' (hands to face and away again really quickly…eek) and 'smooth' (hands wiping face softly with a look of bliss on face)!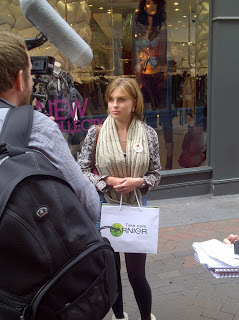 She got BB'd!
I had a freaky cable stuck to my bra and wound around to my back jeans pocket – I got into all kinds of knots when I nipped to the loo in Liberty! And, to my horror I realised later the sound was – still on! So, unfortunately, the crew will have a very desperate and long wee to edit out. *dies*. But, I am thanking my lucky stars that that is all it was! 
I can't deny that it was a really fun day – interestingly, it was all the younger girls who were game on for taking part – if we approached anyone older they didn't want to do it. In fact, only one older lady took part. But we did get lots of varying skin tones, and lots of smiley faces as they went away with the goodie bags. The last part of the make over was giving out the goodie bags and slapping a BB sticker on them and saying, 'you've been BB'd'!
Transparency Disclosure
All products are sent to me as samples from brands and agencies unless otherwise stated. Affiliate links may be used. Posts are not affiliate driven.