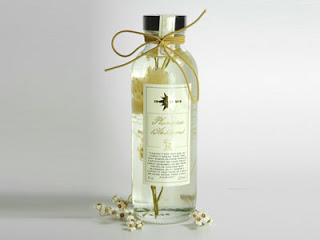 If you've never heard of Fikkerts, I am not surprised – they have a low key approach to marketing and yet still manage to keep a family business afloat – testament, I think, to the quality of the products. Make no mistake, this is what in old fashioned terms would be called a 'toiletry' range: there are no promises to knock ten years off your looks simply by applying a body lotion blessed by yaks, no 'wrinkle reducing' claims and certainly nothing high tech such as skin brightening. In fact, they don't even do face creams – this is strictly body and bath and no bones about it (other than a lip balm somewhere). I was sent a bottle of Wild Rose Bath Essence that uses Rosa Centifolia essence to perfume and it's just gorgeous – at £11.99 an absolute snip. It does contain one of my pet hates – fiddly bits of plant – that mean you cannot get away with not washing the bath out afterwards, and end up finding in all sorts of crevices the following day – but in fact, they are large enough not to come out of the bottle unless you want them to. I loved this range for its old fashioned approach to one's 'toilette' and the simplicty of their products: I'm also very tempted by the Bath Essences in Plumeria (pictured) and Lavender….and the beautifully packaged Fruits of Nature soaps. There are one or two things that missed the style fairy when she passed by that look cheap and unsophisticated, but shop wisely and you will find some hidden gems.
There's a nice back story too – Fikkerts has been in existence since 1903 and began as a chemist store in Bradford, where they sold cough cures such as Bark-Off, Infurno and Therm-o-Rub, and better yet, Dr Norman's Asthma Cigarettes! To this day, they still make carbolic soap.
You can buy from their website,
http://www.fikkerts.com/
, but even though it is very un-green of me to suggest it, you should probably order the catalogue as the web images don't even nearly do the products justice, visually.
Transparency Disclosure
All products are sent to me as samples from brands and agencies unless otherwise stated. Affiliate links may be used. Posts are not affiliate driven.