I'm too clumsy and impatient for false eyelashes.. I've tried and failed to get along with them, but I really wanted some reviewed on the blog because the beauty market is saturated with them. I have recently heard that Katie Price is bringing out some (don't all rush..ahem) to add to the bowing shelves in the lash section of Superdrug. 
I've enlisted the help of amazing blogger Liloo http://lilooblog.blogspot.com/ who has lash application down to a fine art and she has gone through them with a fine toothcomb to find the pros and cons of three popular lash lines. As a regular false lash user, there's nothing she doesn't know about the art of application. Thank you Liloo. We start with Japonesque.
"There is nothing quite like false lashes to make feel me feel instantly pretty, glamorous and sexy. So you can only imagine how excited the huge false lashes fan in me was when I was given the amazing opportunity to write a comparative review of surprise selection of false lashes and make the brands featured compete in a 'battle of the lashes'.
My previous experience with the brand:
I've never tried any false lashes from Japonesque before but this brand has already a special place in my heart.  Many years ago, I purchased a Japonesque last applicator (think 'giant' tweezer for lashes, the size of your eyelids) which changed my makeup life for ever. That particular item was the very  thing that gave me confidence in applying false lashes.
The packaging is to die for. So much care and attention to detail has been put in the packaging, from the outer box itself to the stand, mimicking eyelids. The lashes don't have any clearly identifying number or name, I am not quite sure how I am going to refer them but everything looks gorgeous and I am impatient to play.
First I tried the 'near corner lashes'. When I apply false lashes, I would actually forget that I have natural lashes underneath (my natural lashes are just ridiculously small, thin and hopelessly straight) and I would rely solely on the lashes to do the work for me and give me the drama I need. These 'corner lashes' would therefore not be a model I would personally choose (I would opt for a fuller model) but I totally could see the potential on medium or long lashes. I found the vertical curl to be really flattering.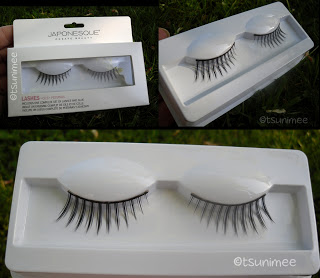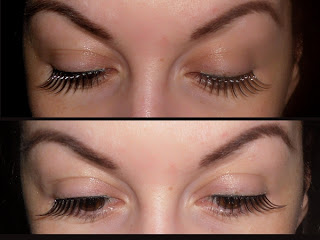 However, I was la little bit disappointed by the horizontal curvature of the lashes. As soon as you take them off their support, you notice right away that they feel straight horizontally and that the application will require a little more work. The lashline is quite stiff, so you will have to apply a little bit more glue and time than usual to make sure than the inner and outer corner don't ping out. I would also need to mention that under some lighting situations, these lashes would appear to be very shiny and 'plastic-cy':  Not a problem for some but it might be a concern for others. What you lose in 'natural feel' of the lashes however is gained in durability. These bad boys are very sturdy and would give you more uses than more more natural looking/feel lashes. Another bonus: No trimming was needed and I could apply them straight away. All in all, spend a little more time, when applying these lashes and they could look like these on your eyes.
Now the for Japonesque double criss cross lashes as I have decided to call them. They look absolutely stunning and reminded me straight away of the Shu Uemura Smoky Layers which I have yet to try one day. No hint of shine on these, they couldn't look more natural. I couldn't wait to try them on.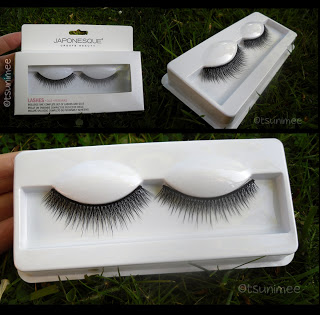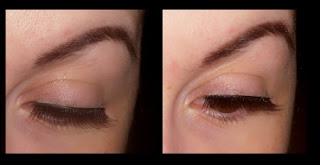 It pains me to say that I couldn't get on with the application and after 4 disappointing trials, I had to admit defeat. The main culprit there is the very rigid lashline again and the lack of horizontal curvature. What a shame, this was not mean to happen, these look too gorgeous to be sat in a box.
Last but not least, the 'fluttery tail of a bird' lashes. Being self conscious about my droopy eyelids, I would normally stay away from slanted eyelashes as I am scared that they would emphasise the natural droopiness of my eyelids. I didn't have much hope for this particular style but I was pleasantly proved wrong: they gave me a cat eye effect but without dragging the whole eyelid downwards. Application was miles easier, but I still wish the lashes were curvier horizontally and that lash line were to be thinner and more flexible.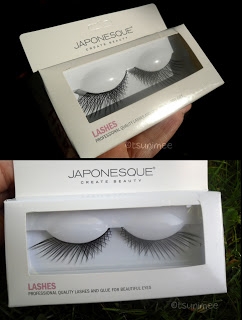 Overall verdict:
Japonesque is responsible for a genius product which gave me confidence in applying false lashes and which changed my makeup looks for ever. Because of their rigid lashline, I would recommend the lashes I've been sent to more confident lash users. I was a bit disappointed with the curvature on the actual Japonesque samples but the 'fluttery bird tail' style opened my eyes, so to speak to styles I would never naturally go for. I am curious to see what other styles the brand has got to offer.
Transparency Disclosure
All products are sent to me as samples from brands and agencies unless otherwise stated. Affiliate links may be used. Posts are not affiliate driven.