This is a no-nonsense skin-care range that is right up my street, not least because it sits under the same umbrella as Institut Esthederm and Bioderma, two of my all-time favourite skin ranges.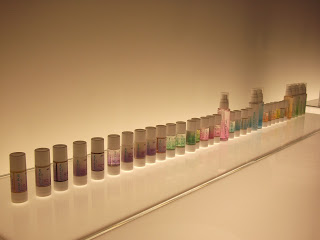 ETAT PUR Skin care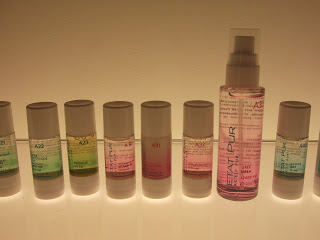 ETAT PUR Actives
Hailing from France, probably the most appealing of points about ETAT PUR is the Pure Actives, all 40 of them. Basically, the Actives library, grouped into 8 families and produced to the optimum dose for skin to respond to, target all skin concerns. As we know, skin can behave very variably; one day you're glowing, the next you're a mass of spots or horribly dry, but you do tend to know what you are most prone to. This is where the Actives come in. You'd choose maybe two or three to target those things you know are coming, such as monthly breakouts or deyhdration after sunbathing and use them according to what your skin needs at the time. They're in a serum like fluid and are designed to be used under your moisturiser or regular routine. Highlights from the collection are the LW Hyaluronic Acid, Salicylic Acid and Ectoin to protect from the effects of sun. Basically, if you're in tune with how your skin behaves and you love the 'science' of trying to make it behave better, you'll adore these Actives. You purchase via their website, www.etatpur.co.uk where you can get as much help as you need to pick the right thing for you; and there is a sampling service, too. They start at £8 and go up to £17, so in the scheme of things, we are looking a mid-price entry point.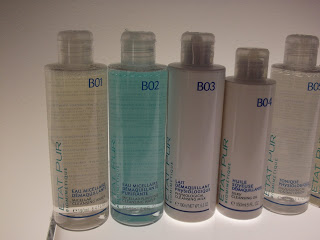 ETAT PUR Micellars!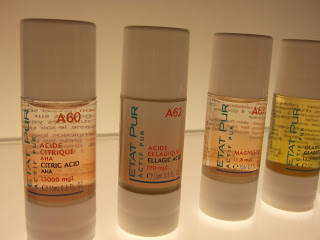 ETAT PUR Actives
The second phase is Biomimetic skin care. In short, Biomimetic uses ingredients that have the most affinity with skin; that are identical to skin's components (like hyularon which occurs naturally), and that work with skin easily because of their similarity. Actually, most thrilling for me is the Micellar Waters! One for normal skin and one for oily skin. Cleansing is a very strong point for ETAT PUR as they have five, all at different textures, to choose from depending upon how you like to cleanse. There's also an Oil-Free Quenching Fluid – these are quite hard to find in other skin care ranges and are perfect for oily skin that needs moisture but not more oil.
There are so many aspects to ETAT PUR that I can't explain all of them without this post being an essay…but if you wanted to create almost the 'perfect' range, with reasonably priced products with an average cost of about £10 each that work, with pared down packaging, with plenty of choice, mindful of their carbon footprint, giving a proportion of profits to charities and with a website that is actually useful, then here it is.
What I notice most is that there are no silly claims like 'look ten years younger in ten minutes', or 'wipe years off your skin' or even 'gives a botox like effect' (my ultimate bug-bear) – that's not what ETAT PUR is about at all. They're just about giving exceptionally good skin care, ten years in the making, and I think, having a mature attitude to looking your best without gimmicks and false promises.
Transparency Disclosure
All products are sent to me as samples from brands and agencies unless otherwise stated. Affiliate links may be used. Posts are not affiliate driven.