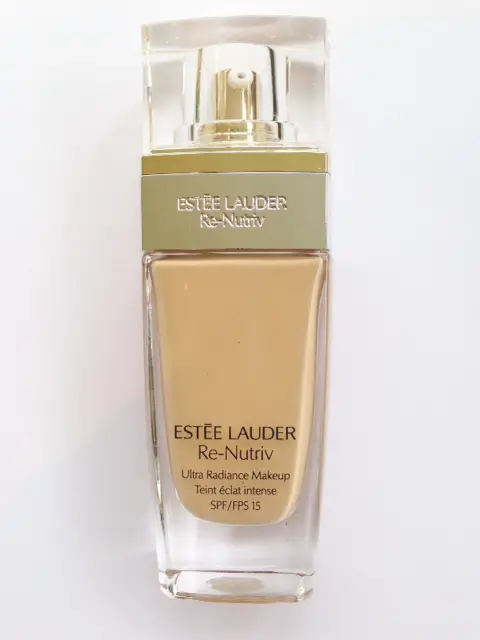 I know it's a huge indulgence, but I'm very fond of the Estee Lauder Re-Nutriv Foundation – in its current format, it costs £64 which is wince-making. However, there's a new version on the way that's a little bit more friendly on the credit card at £45 but it's still at the top end of what I'd be comfortable paying for a foundation.
The Re-Nutrive remix is interesting but it's a bit of a flight of fancy information wise. I think it might have been written by unicorns. On acid. Rubies, sapphires and jade in micro-fine format give a jewel like radiance. Erm, what? If I'd blind-tested this, I would think it a very fine foundation, but would have no clue of its secret jewels. Apparently, rubies and sapphires interact with light to create vibrant colours *cough*.
BUT, Estee Lauder New Re-Nutriv Foundation is giving some excellent coverage that feels like you've put moisturiser on your face. It stays feeling hydrating pretty much all day and because the coverage is good, my skin really does look even in tone. Estee Lauder New Re-Nutriv Foundation comes in a mousse 'lifting' format and a liquid (I've tested the liquid) which is easily blendable and it's ideal for those who want a more full coverage than many lighter foundations don't offer any more. In a way, it feels like a foundation that's gone back twenty years, but in a good way. I know that some women – especially older women – struggle to get the coverage they like and that they're used to – the 'real skin' look is a curse for some! I'm not sure I feel I have more radiance particularly, but in terms of feeling luxurious and offering all day hydration, its boxes ticked.
If you've used the old version, there is less slip in the texture of the new which gives it longer last –  Estee Lauder New Re-Nutriv Foundation launches on 1st September.
Transparency Disclosure
All products are sent to me as samples from brands and agencies unless otherwise stated. Affiliate links may be used. Posts are not affiliate driven.