Oh yes, I'm a little bit in love with this collection, especially the Pure Color Liquid Eyeliners in Black Quartz, Graphite and Silver Zinc.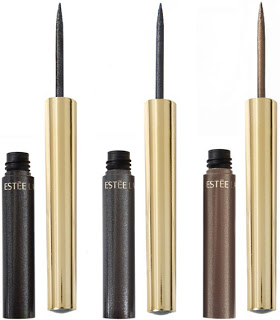 Here's how they swatch: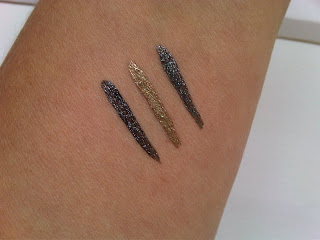 Silver Zinc (middle) has a bit more of a khaki hue to it in real life – it's not as gold as the picture shows. With my colouring, I could wear all three of these although I'd be most likely to wear Black Quartz, the darkest of the liners and with just enough sparkle to make it pretty as well as vampy. They're £19 each.
Next up is the so called 'tribrid' Pure Color Illuminating Powder Gelee. 'Tribrid' because it is a liquid, powder and gel so the actual product has a slightly spongy feel to it. I'm not really up for shimmering my face but I can see that using it on evening eyes would be a definite show stopping look.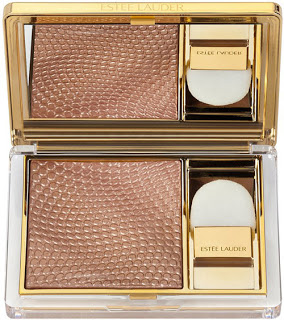 See it swatched here: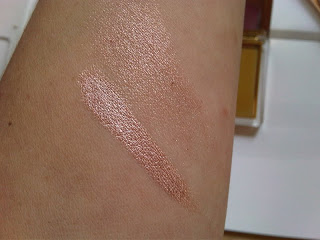 The fatter swatch is done just using the brush provided, but the second, thinner line is what happens when you apply water. It gives it more intensity, but to be honest, I'm not sure why you would when the best thing about it is the highlighting sheen that it gives to cheeks, shoulders and eyes. Actually, when you really blend, blend, it gives a very, very subtle shimmer that is sweetly twinkly. I'd probably use a big fluffy brush for this and go lighter rather than heavier as an all-over shimmer rather than trying to define it down into an eye-shade. Anyway, it's huge, so you might as well. It costs £28.
Then we have the Pure Color Duos – they're really pretty, but apart from Black Chrome which is a bit wowzer, they're very safe. Here's Black Chrome: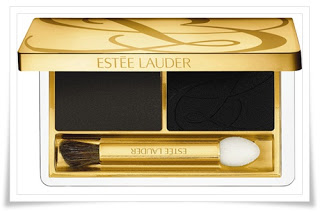 The Pure Color Lipsticks are matte – and I really don't like matte because I have super-crinkly lips (no idea why) so the very thought makes me shudder, but I have to admit that for a matte formula, they're actually rather creamy so worth checking out even if matte isn't your thing. They're £18.50 each and packed with pigment. The swatches here are Fuschia Velvet (pink), Red Velvet (red) and Nude Velvet (nude):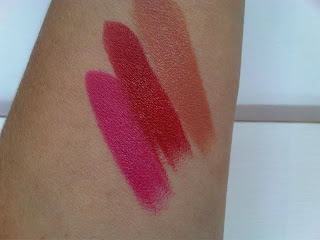 The thing I'm most excited about is their Metallic Sage nail polish which I will swatch later on. It's a kind of irridescent green and gold that isn't so heavy on the gold as Chanel's Peridot but would make an excellent near-dupe for those who love the beetle-back goldy-green thing but don't want quite the gilt surge.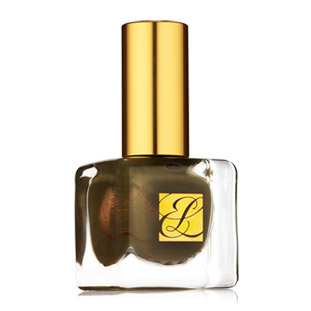 Overall, I'd say the collection is pretty well for everyone, and that's pretty much the skill of Tom Pecheux; he makes make up that is properly wearable, that doesn't scare the horses but does edge just the right side of a trend.
Transparency Disclosure
All products are sent to me as samples from brands and agencies unless otherwise stated. Affiliate links may be used. Posts are not affiliate driven.