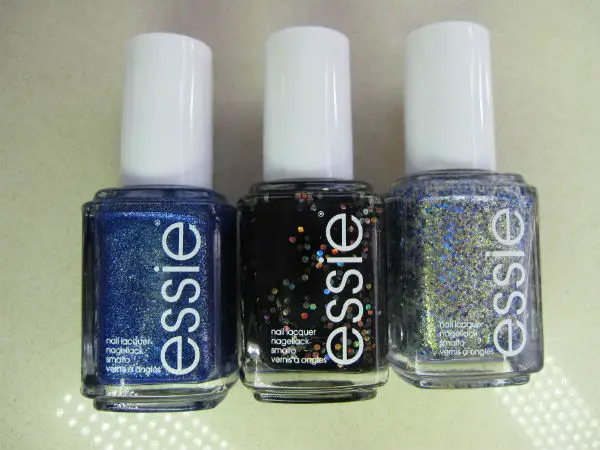 I've got three of the new Essie Encrusted Collection to show you – it's a bit of a mixed bag this time. I love playing about with nail polishes and top coats but I think I am nearly done with the trend, I have to say. Above is Lots of Lux, Belugaria and On A Silver Platter. They're all quite complex in their composition; but for example, On A Silver Platter is billed as having lavender shimmer – how nice if that were the case, but I can't detect any lavender in it – only blue, gold and pink holo particles.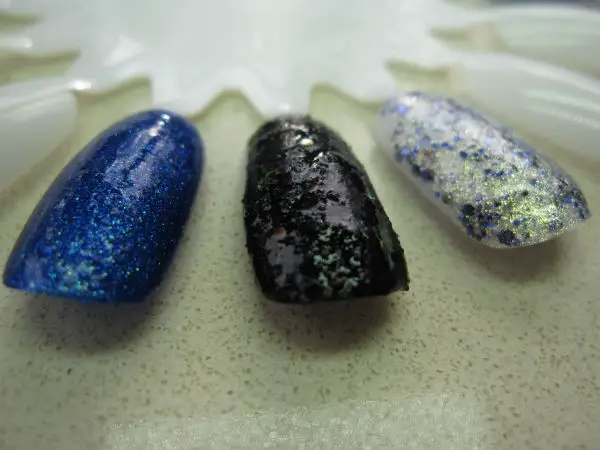 Belugaria is awful – it's like a newly tarmac-ed road with an intense black that dries to what I would say is a rough, concrete finish. The glitter is so overpowered by the black pigment that it barely shows at all – it looks stunning in the bottle, but out of it, doesn't live up to expectations – I've seen it described as a hot mess and that's just about sums it up.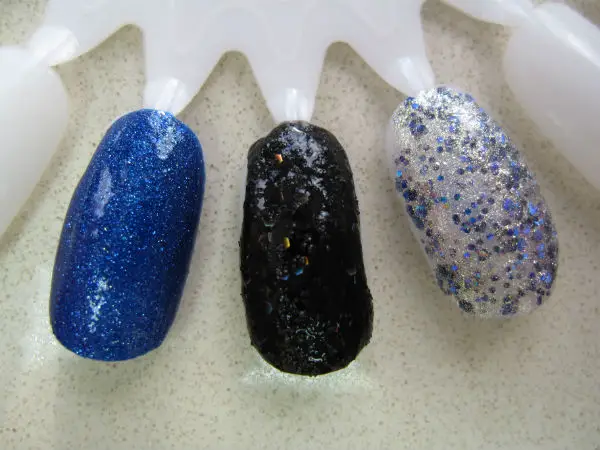 The one I really like, and unexpectedly really, is Lots of Tux which dries to a matte finish but still sparkles. It's also holo and really quite a deep finish. There are also three other shades, Peak of Chic – white with rainbow holo, Ignite The Night – a matte finish hematite, and Hors d'Oeuvres in gold with silver based iridescent silver glitter. The collection, with the exception of Belugaria is really pretty if you like a little flash on your nails. It's launching in February.
I've done a quick scoot around the interwebs and Belugaria is looking pretty horrible on all the other swatches – I wondered if I'd done something wrong, but no, it really is that bad ;-). The-glossy.com has some great swatches HERE.
Transparency Disclosure
All products are sent to me as samples from brands and agencies unless otherwise stated. Affiliate links may be used. Posts are not affiliate driven.