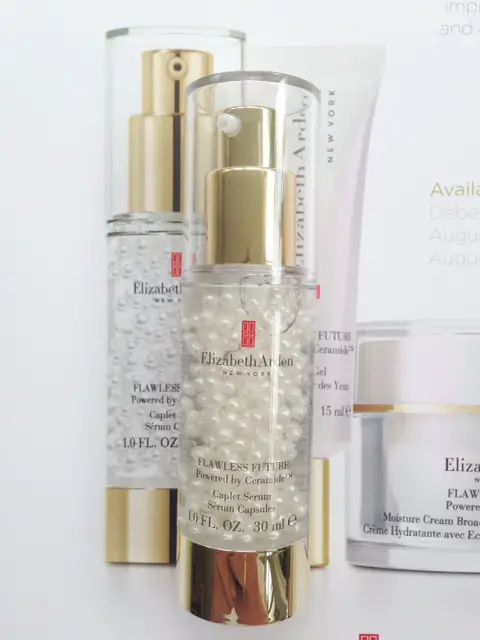 If there is a prize going for prettiest new skin care, Elizabeth Arden Flawless Future takes it! Stress is a key target for Elizabeth Arden Flawless Future and unlike most other brands, EA focusses on ceramides; natural molecules that help keep skin healthy. As ceramides deplete as you age (in your 30's they can deplete up to 38%) the focus of Flawless Future is to put it back. Working on the theory (like Shiseido Ultimune) that stress can have an effect on all kinds of healthy skin functions, Flawless Future claims to replenish ceramides, minimize the early appearance of lines and wrinkles (a claim that requires a leap of faith by consumers) and to brighten skin tone, texture and radiance.
The texture of the Caplet Serum is completely lovely – light and airy – it sinks in quickly and made my skin feel immediately silky, but so far that's the only product I've put to the test. I said in a previous post that in the UK we're not very good at prevention – we like cure, thanks very much! Prevention isn't tangible, whereas cure and improvement are, so it's always risky, I think for brands to ask consumers to prevent something because there is no obvious sign that you have ever done so. However, the Elizabeth Arden theory is that stress in young women is making their skin age more quickly – first signs of ageing appear earlier, and that does ring true – so they've put a belt and braces effect into this product line. So, it's more than likely that you'll see some skin improvments in the short term (softer, brighter), and as for the longer term effect, it's anyone's guess. But Elizabeth Arden have taken a bit of a no-nonsense approach to this which I like – they get it that stress is here to stay, they haven't faffed about with 'relaxing' perfumes in it and there aren't any horrendous lectures about what will happen if you don't stick with the programme.
Elizabeth Arden Flawless Future launches into Debenhams on 27th July and nationwide in August, with Serum (£48), Moisture Cream SPF50 (£40) and Eye Gel (£25).
Transparency Disclosure
All products are sent to me as samples from brands and agencies unless otherwise stated. Affiliate links may be used. Posts are not affiliate driven.