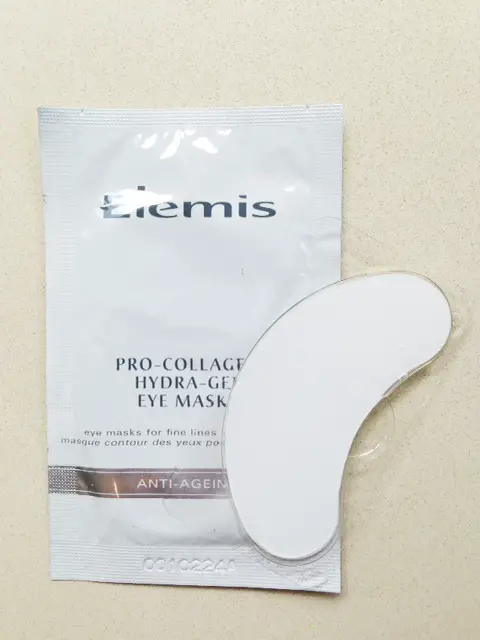 Heading for stores in June, the new Elemis Pro-Collagen Hydra-Gel Eye Masks are really quite something. I had a late night last night (with wine) and because I wake every day between 6 and 6.30, it's safe to say that my lack of sleep is very much showing on my face today. Nothing specific – just bleary. The claims on the eye masks are to visibly reduce the signs of fine lines and wrinkles and instantly hydrate, revitalize and tighten the skin.
I'd say that the 'visible reduction of the signs of fine lines and wrinkles' is probably the least interesting part of what these gel masks actually do. And, it's a bit of a woolly statement anyway. I've used the mask on one eye only so that I can compare the two and there is a distinct difference in the skin under the eye that's had the mask. Initially, the Elemis Pro-Collagen Hydra-Gel Eye Masks feel rather wet and clammy and they're quite big so that they can reach the 'corner crinkles' (my term, not theirs). They're instantly cooling, which on my tired eyes is bliss. Once you've worn them for 20 minutes or so, the tightening feeling continues on well after you've removed the mask, so I'd suggest you go back and look at the results at least half an hour later. My under eye area definitely looks brighter and tighter compared with the other eye which looks like it spent the night drinking alone.
It's suggested that Elemis Pro-Collagen Hydra-Gel Eye Masks are used weekly to banish dark circles and generally improve the under eye area, but personally, I wouldn't get into this regime because it's absolutely impossible to tell with a once a week use whether they really do anything improving long term. However, as a wine-last-night-regrets-this-morning pep up, they're exceptionally good. A beauty emergency cupboard essential! I imagine they'd also be rather wonderful if you've let the sun redden the bit between the tops of your cheeks and your under-eye. Is there a word for that place?
Needless to say, they contain the magical Hyaluronic acid, along with plankton extract, Padina Pavonica and Chlorella. At £46 for six mask, that's six bleary, wine face emergencies dealt with.
Transparency Disclosure
All products are sent to me as samples from brands and agencies unless otherwise stated. Affiliate links may be used. Posts are not affiliate driven.