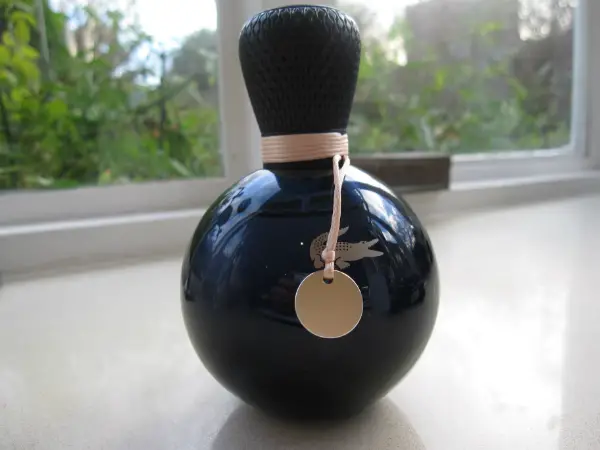 I have to admit, I fell for this bottle straight away! Lacoste isn't a fragrance range that I'd automatically reach for but the design of this had me curious enough to try it. It's designed by Christophe Pillet and the glass is midnight blue – the neck is wound with a silky thread which I thought the untying of would get old really quickly, but in fact, it's part of the bottle and you just pull off the lid.
So, the actual smell. It's super-sweet and very rich at first, but gets more gentle as it wears down. My personal preferences is for sweeter fragrances; I don't want to smell like crisp, wet grass or whatever, so it's ticked that sugar-aroma box for me. My information says that it has notes of rose and gladioli and while I don't think I know what a gladioli smells like, you do get rose – but it's more chocolate rose cream than freshly picked buds. Fragrances are subjective, and although I don't know it as fact, I am sure different noses pick out different things.. given that it's got what is supposed to be a sharp blackcurrant note, my nose has only picked out the sweet stuff.
It's totally an evening fragrance – I think you could waft about in this feeling sexy and pretty, because it is both of those things. Eau de Lacoste Sensuelle launches on 5th March, starting at £33.
Transparency Disclosure
All products are sent to me as samples from brands and agencies unless otherwise stated. Affiliate links may be used. Posts are not affiliate driven.