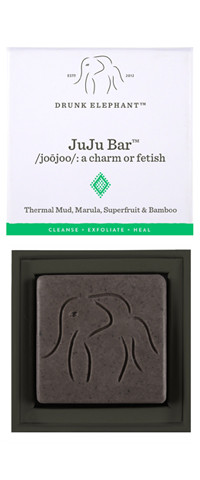 I'm a little bit (for that, read a LOT) obsessed with Drunk Elephant. It's the best name ever although how it leads you to a beauty brand, I'm not sure. But, once again, thinking outside the box has moved this brand into an indi category to take notice of.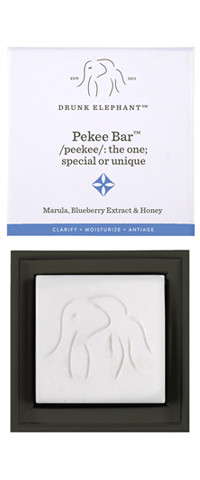 So, to Juju and Peekee. Drunk Elephant Juju Bar is a three-in-one cleanser, exfoliator and skin healer with thermal mud, glycerin and bamboo powder – I think they might be stretching the point with skin healing but it's pH neutral and formulated without any nasties at all, including colourants or perfumes, so ideal if you have fragrance sensitivities. Juju is the one most suitable for dry skin. For oily skins, Peekee is probably better – it's clarifying for a start, and uses blueberry extract, marula oil and honey, as well as aloe vera and licorice extract. Once again, it's colour and fragrance free.
I have to say the idea of a 3-in-1 bar is very appealing, particularly for days when you just can't be bothered to get the whole balm, flannel, exfoliator etc out. I probably should point out that marula oil is a key component of the entire range and is partly responsible for the name. Apparently, it comes from the myth than elephants love to eat marula fruit which ferments madly once inside their stomachs and they then become drunk. Drunk Elephant is a comprehensive range with Glycolic Night Serum flagged as the star of the show.
Drunk Elephant isn't unknown – it's had a lot of press outside of the UK, so I think it's one to watch for us – particularly as it has launched in Colette in France, and buyers across different stores all watch what each other is doing. I'd be surprised if it isn't on a UK buyer's radar right now.
Transparency Disclosure
All products are sent to me as samples from brands and agencies unless otherwise stated. Affiliate links may be used. Posts are not affiliate driven.