The Dior launch for the Blue Tie collection was really exciting. There is something very mesmerising about watching a beautiful model go from no make up to a day look and then on to a full on evening look. In fact, it's quite zen looking at someone else be creative and clever when all you have to do is watch. Andrew Gallimore is the new Dior Make Up Ambassador – you'd probably know his work more than his name – he is responsible for Jessie J's black studded Swarovski crystal lips in her video Do It Like A Dude. He says he has that crystal lip thing down to 20 minutes flat. 
The collection itself is delicious and I am probably biased because I love dark blues – on nails and eyes – so really there was nowhere for this go wrong as far as I am concerned. As usual, Dior have pulled out the stops for their stand-out palette, Dior Blue Tie. It's a palette of four eyeshades (choose from dark grey or light grey) and a gloss – it is designed to have the masculine edge of a cigarette case BUT the best thing about it is that it has a secret door inside under which the gloss lies. It is a beautiful detail. Alongside that there are two 3 Couleurs Smoky palettes: Smoky Black and, my favourite thing, Smoky Navy. Christian Dior famously referred to navy as 'summer black' and I really get that although I'll be wearing it in winter as well. So, happy times that there are also two Diorshow Waterproof Liners in Carbon and Navy. The nail shades – you might have guessed right now – are blue! The first, created by Tyen is Tuxedo Blue a stormy dark blue; the other, Blue Denim is a kind of edgy blue that on first glance makes your nails look like they've been Biro'd! I think it will be a 'Marmite' shade – you'll either love it or hate it. There will of course be some lip action with four new shades of Rouge Serum and Haute Couleur Voluptous Care. I must admit I didn't pay too much attention to those as I was too busy playing with the secret door in the Blue Tie palette.
Anyway, here are the pictures of the day, and you'll see there was some serious shoe style going on!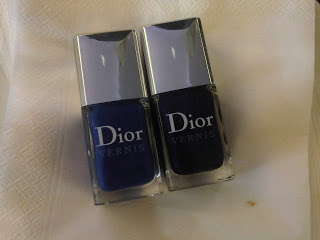 Blue Denim and Tuxedo Blue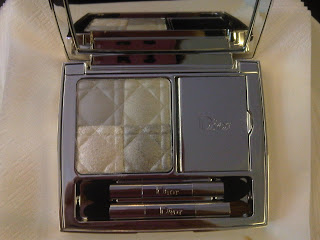 Blue Tie Palette in Light Grey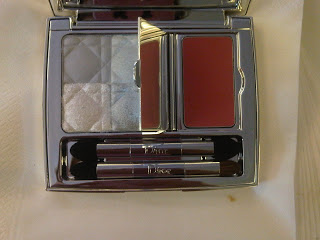 Secret door open…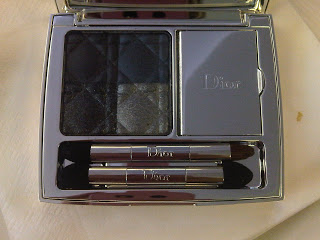 And now in Dark Grey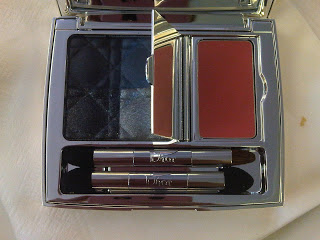 With secret door open.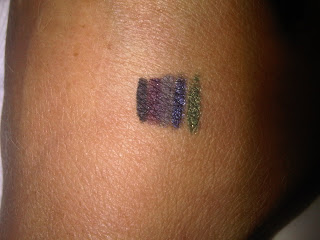 Excuse the dry skin! A selection of Diorshow Waterproof liners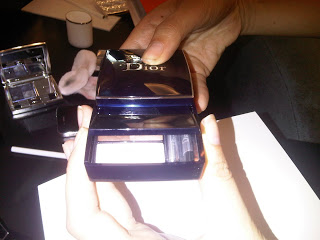 Really hard to see but the 3 Couleur Smoky Palettes have a kind of glide action opeing – pull the lid back and a mirror raises up.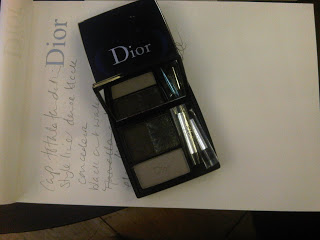 3 Couleur Smoky open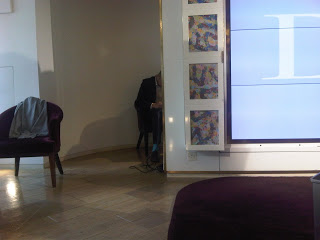 I spent the entire launch wondering who the heck that was hidden (or not) away.. I never did find out.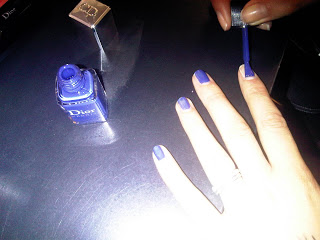 www.amodelrecommends.com gets busy with blue nails.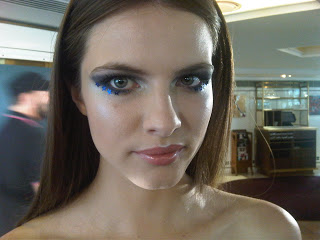 The finished look complete with blue stars around the eye edge.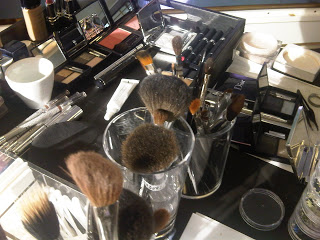 Andrew's work station.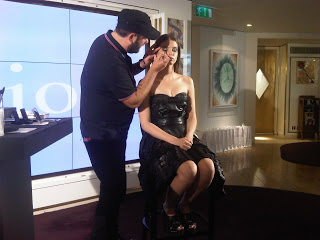 Adding the final touches.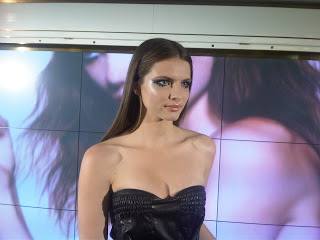 Model wore the most exquisite leather dress.
The shoes, the shoes!!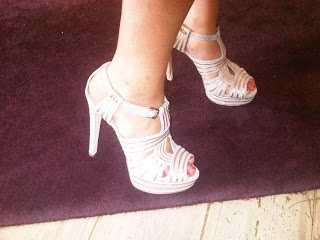 More shoes!
Transparency Disclosure
All products are sent to me as samples from brands and agencies unless otherwise stated. Affiliate links may be used. Posts are not affiliate driven.