Rimmel London have set the challenge to reveal top tips for day to night make up straight from the office – my top tip? Start over! My make up has this habit of completely disappearing during the day – I don't know if I rub my face a lot or my complexion soaks it in like a sponge, but whatever it is, there's not a lot left by the end of the day. 
But given that this is a bit of challenge, and let's say I really did have to make the most of what was left without starting right from scratch, and I couldn't have lugged my entire make up bag to work, I'd need a little bit of pinky-peach creme blush which I'd use to put some life back in my cheeks AND add to my eyelids. Pink is a great colour for lids as it really opens up the eyes and makes them look a little bit more awake. Of course, I hope in my pared down emergency kit, I'd have a gorgeous, velvety black liner to draw as close to the lash line as I could get to really make it an evening look rather than a day time one. I'd also add some whitening drops to really make my eyes look clear and sparkly. I'm not that keen on very glittery glosses, so I'd use a shimmer gloss in a dark pink or orange – I think going darker on the lip really signifies evening glam. I'd add some highlighter with a big fat brush to my cheek bones over the blush and some around the hairline too. Then I'd just have to hope for the best!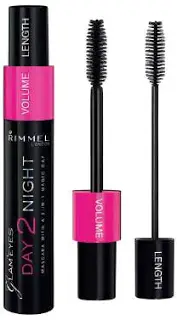 Of course, because I have lash extensions (watch out, I'm trying some coloured ones next time!) I don't normally need mascara, but because you can't have extensions on your bottom lashes, they sometimes look a bit bare in comparison to my fat top lashes. So, that's where mascara can come in handy – to make a really glamorous doll-eye look. Rimmel London Glam Eyes Day 2 Night has a two brush system which means you can go for length or volume or both. I felt safer with the length brush on my bottom lashes as it is much finer – it goes on beautifully; I really don't have anything to complain about there. Braving the volume brush though needed careful handling because bottom lashes are so fine and fiddly. But, combined they do give eyes a very open look, and didn't clump. In an ideal world I'd use the length and volume combination on top lashes and then use just the length for bottom lashes. 


So that's my emergency make-do make up to take me out to a sudden surprise event. Otherwise of course, I'd have packed my suitcase and taken every single piece of make up I own to the office.. just in case.


http://www.rimmellondon.com/uk/products/glameyes-day-2-night-mascara/
*This is a sponsored post by Rimmel London. 
Transparency Disclosure
All products are sent to me as samples from brands and agencies unless otherwise stated. Affiliate links may be used. Posts are not affiliate driven.