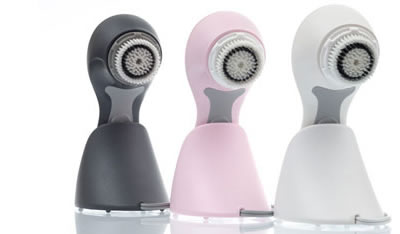 I've been using my Clarisonic for slightly over a week now, and I feel, well a bit 'meh' about it. I am in no doubt that it does cleanse skin effectively (using the same technology as Sonicare toothbrushes – and in fact, developed by the same team). There is a great review in the Daily Mail today where the feature makes the very good point that 'sonic' doesn't mean, in this instance, scientific rays etc (pardon my lack of technical knowledge on sonic here and also my reluctance to research for half an hour on what place sonic technology has in the field of boffindom), it refers to the oscillation of the brush, which gives 300 per minute, apparantly. So, back to the review. It is extremely simple to use – charge it up and press a switch – that's literally it. The brush feels very soft on the skin (although I really don't like the way it puts me into pre-sneeze mode when I use it on my nose) and a beep signals when you've spent long enough on any one area. The basic theory behind using this superior form of cleansing is that it allows your other beauty products to work much more effectively, and it is true that skin feels super-clean and soft after using – just not mind-blowingly so. Other bloggers/mags etc rave and rave about it – I like it, but I'm just not sure I'd spend £150 on it. Mine came with several Clarisonic own label cleansing products, but I've stuck to my own cleansers to test it. I think if it came in at a more affordable price point, I'd like it better, and overall I'd rate it good, not amazing.
Transparency Disclosure
All products are sent to me as samples from brands and agencies unless otherwise stated. Affiliate links may be used. Posts are not affiliate driven.