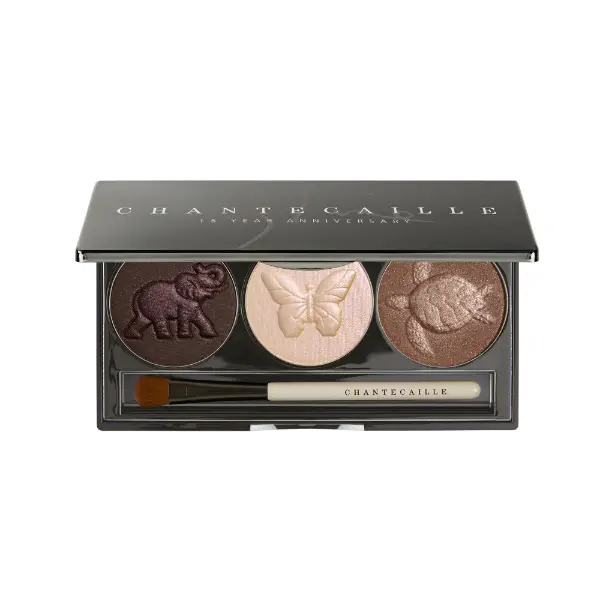 Chantecaille's animal themed palettes are always hotly anticipated – they're madly expensive (£63), always, but exquisitely made, great quality and significant fund-raisers for animal charities. Chantecaille tend to look to endangered species rather than 'most popular' – it's a bit of a reach in modern city life to really concern yourself with the demise of butterflies, but the Monarch butterfly is on the endangered species list, with a drop of 95% in 2013. Sea Turtles are now so endangered, they're on the critical list. And elephants, well, it's a shocker to know that these animals are being killed for their ivory at a higher rate than ever before. 38,000 are killed annually for exactly that reason and if that rate doesn't change, by 2025, well within our lifetimes, there simply won't be any more. So the Chantecaille 15th Year Anniversary Palette is an amalgamation of best loved animals.
It's not clear from the information I have quite what the proceeds are that go to the individual charities* below, but from past palettes, I know they raise a very healthy amount of money. I haven't called one in to swatch so it's guesswork on the shades and pigment quality (always good, though) – it seems wrong when every penny is so vital to waste an entire palette. If I wasn't blogging and writing about beauty, I'm pretty sure I'd be working with animals so anything like this has my heart at the word go. A world without elephants? I can't even. It's on the SpaceNK site now, HERE.
*Proceeds from each Anniversary Trio sold will be proudly donated to The David Sheldrick Wildlife Trust, Monarch Butterfly Fund and WIDECAST to help protect our endangered elephants, butterflies and sea turtles respectively.
Transparency Disclosure
All products are sent to me as samples from brands and agencies unless otherwise stated. Affiliate links may be used. Posts are not affiliate driven.