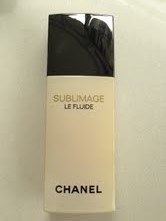 I find it quite hard to think of Chanel as a skin care brand – to me it's all about the colour (and the bags!), but nonetheless, they do have an impressive line up of skin products.
Sublimage is SO expensive though (£185) that I put it straight to the test this morning. It promises an 8 hour flawless finish, make-up hold and to keep make-up even all day. It also promises a glowing complexion with a smooth and resculpted appearance working with key ingredient zinc Precispheres (I hate made-up names). So what this ingredient does (they say) is control the mineral salts on the skin; zinc Precispheres exchange these salts with zinc to control sebum levels in a continuous action.
So, I used it on one side of the face only so I had a direct comparison. It's not exactly clear whether any of these benefits will appear straight away or over time, but I certainly did notice that my skin looks significantly more 'glowy' on the side with Sublimage. After that, the next thing to note is that the skin feels significantly softer than the side without the cream. After that, I'm a bit baffled. Yes, it 'may' have kept my make up on, but I can't be sure, yes, it was a lovely base for make up, yes the skin surface looks smoother. But, I didn't notice my skin significantly mattified, nor did I see any evidence of contouring or resculpting (but maybe that comes over time.. or, ahem, maybe not).
I know Chanel is all about the luxury, and if you have a luxury budget, it is a beautiful cream. Otherwise, I'd have to choke a little bit at the price tag. I'm going to keep on with this and use as advised (mornings) so might well have another post if there is more to say. I hope so.
Transparency Disclosure
All products are sent to me as samples from brands and agencies unless otherwise stated. Affiliate links may be used. Posts are not affiliate driven.