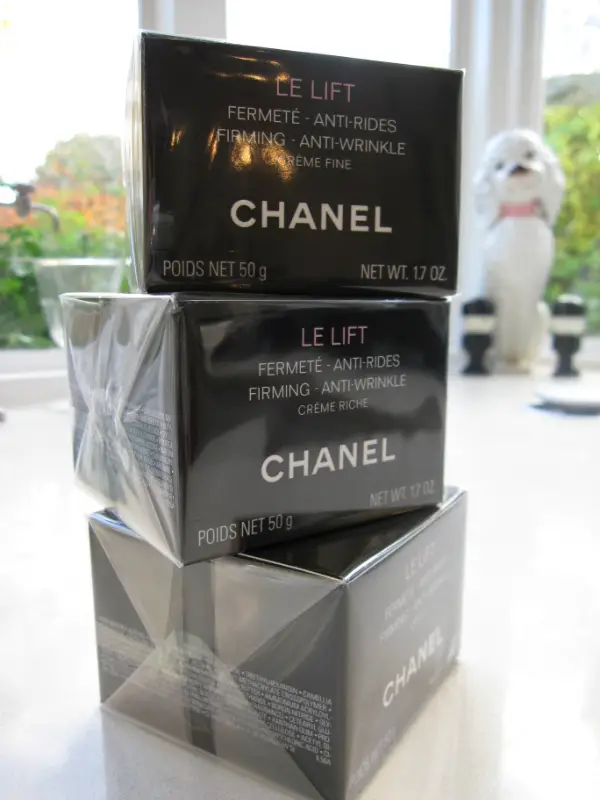 A tower of Chanel – the perfect way to hit Friday! Kind of. This is Chanel's skin care launch for January 2014 (it's already launched elsewhere other than the UK); I don't doubt for a second that it's efficacious and luxurious (although I haven't tried it) because I loved (and still use) their three step skin care Le Jour, La Nuit and Le Weekend and felt it really did make an improvement on my skin.
However. Trying to explain how this works requires the kind of scientific brain that I just don't have. I'll give a quote and you'll see. "Chanel uses epigenetics to inaugurate self-biology. Genes generate all of an individual's proteins, but they only represent a small proportion of DNA. A large portion of DNA, which were thought to be silent, is actually a wonderful regulation and adaptation mechanism. It calls on chemical "switches," called microRNAs (or miRs), which are tiny fragments of RNA that modulate protein synthesis by adhering to messenger RNA coding sequences. These control processes are key elements of epigenetic regulation. Their production is constantly modified by the environment and living conditions." Scratches head – lost at coding sequences :-).
But to bring it down to its most basic – smart skin care that gives a firming action in three different textures. This information isn't really meant for public consumption; it's to give us beauty writers all the information we need to pass it on in a way that's consumable and understandable but er, it's got me beat.
There's a Regular, for normal skin, a Riche for extra dry skin and Fine for skin that is oily. It uses the Edulis plant extract which apparently helps to boost youth proteins in the skin, and then some, thanks to sciency-tricks that enhance it to fifty times the power of the original extract.
There are plenty of reviews on-line, however, from different countries so suggest you have a scoot about the internet to see what people are making of it. The ones I have looked at are completely positive.
Transparency Disclosure
All products are sent to me as samples from brands and agencies unless otherwise stated. Affiliate links may be used. Posts are not affiliate driven.