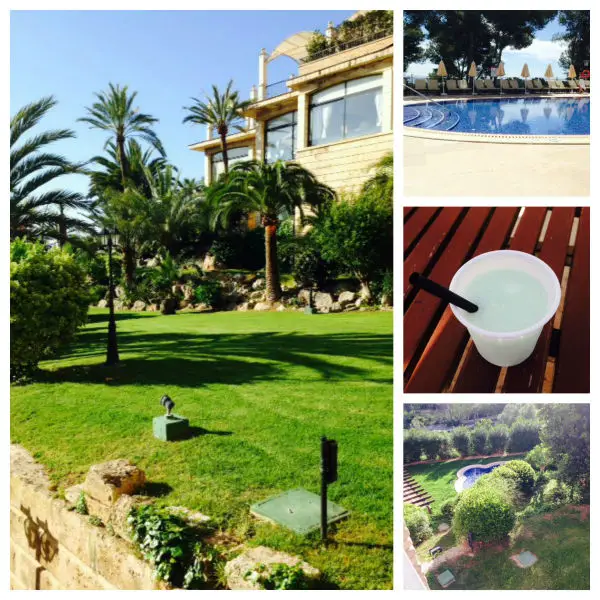 You know when you just HAVE to get away?! Well, that. It was rather a last minute booking to the Son Vida Castilla just outside Palma, Mallorca, without much research, I must say. It looked sunny, it looked beautiful and it looked restful. I've been burning the candle at both ends for too long and wanted three days of literally lying around, no social media, no blogging and no emails.
I always think it's worth sharing if you find somewhere lovely for some R&R, so I made a few notes about Son Vida Castilla just in case anyone else gets to the end of their tether!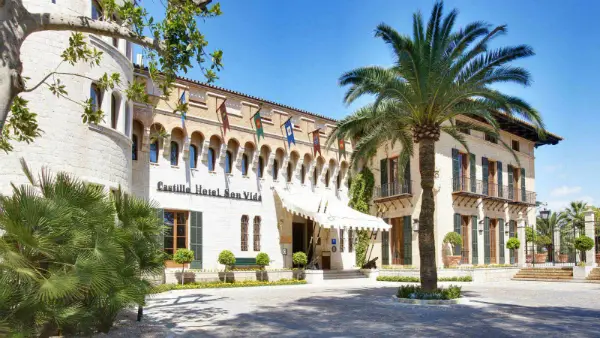 So, the hotel is just outside Palma, surrounded by golf courses, so inevitably, the clientele is golfy. However, our room (ask for a balcony room) was a perfect haven – soundproofed (sneaky BBC world viewing) and looking out onto the gardens. There was just no noise at all and we could sit in the sun without being overlooked. When we arrived we were offered drinks which was lovely – but also an upsell, not so lovely! We didn't want to spend an extra EU70 on a 'nicer' room. In fact, our room was absolutely beautiful – spacious, luxurious and extremely comfortable.
The hotel interior is sumptuous but rather dark – huge paintings of battle scenes adorn the walls, and bizarrely, there's a motorbike in the lobby. I didn't even ask. However, it's all sandy coloured bricks and marble so feels cool and inviting, and while it is definitely a luxury hotel, it feels quite relaxed.
The main feature of the hotel is the terraces – several beautiful, inviting terraces where you can eat, drink or just gaze over the tree tops to the sea below. Service is comedy-slow and the breakfast waiters have been trained at the special Make-No-Eye-Contact Academy with the ability to NOT to catch the eye of anyone who might want more coffee or juice.
We ate in the hotel once – it was the most expensive meal of our stay and while it was interesting, it wasn't amazing. We had better food out and about in Palma (particularly at a steak restaurant called Bollixe (yes, really)). Palma (old town) is great for shopping – especially shoes – with Mango, Zara and S'Fera all near each other. It's also full of churches and Gaudi-esque architecture, so Mr BBB was completely happy leaving me to the shoe shops for a couple of hours.
But, despite one or two flaws, it was boxes ticked for R&R. There is an indoor pool, a sauna and a steam room (didn't venture into any of them), there are any number of Anne Semonin or Cinq Mondes facials to be had (no, I didn't) and if you can be patient with the service, there is nothing to get your day off to a good start than breakfasting on a beautiful terrace in the sunshine.
It's certainly luxury, price-wise, but after three days of sun, shopping and great food (maybe some wine) – and more importantly, doing nothing more exciting on the iPad than watching downloads and listening to an audiobook, I'm definitely renewed. Which was what it was all about really – a place where we could completely relax, feel cossetted and spoilt. I slept and slept!
Better yet, the hotel is only about 20 minutes – if that – from the airport and our flights from London City were about 2 hours long, so total travel time was about four and half hours door to door.
Castillo Son Vida is HERE.
Transparency Disclosure
All products are sent to me as samples from brands and agencies unless otherwise stated. Affiliate links may be used. Posts are not affiliate driven.