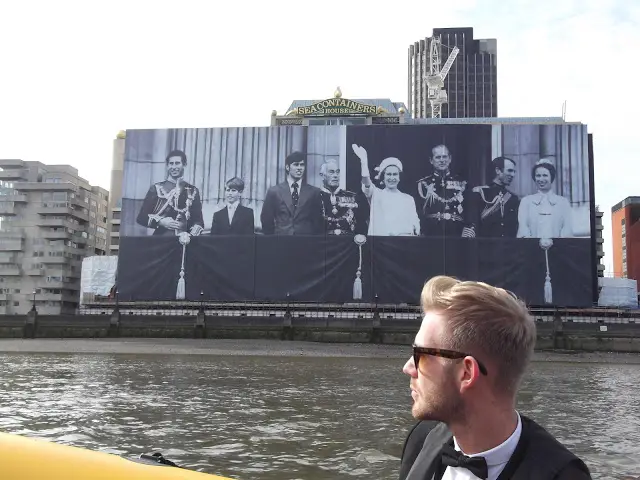 Well, good morning Mr Bond…
I don't usually write much about events, but today's was so much fun I thought I'd share it. In celebration of the launch of the James Bond 007 fragrance a handful of us were given a 'Bond Day' which kicked off very early in the morning at Westminster Pier. 
While we were waiting for everyone to arrive, purely by chance Ben Ainslie was sailing his boat exactly in front of us on the Thames, and being filmed (not sure what for) so the morning couldn't have got off to a better start. We all piled into a speed boat and set off down the river. I didn't know there was no speed limit after Tower Bridge, but there isn't, and we went pretty fast with a few whizzy turns to get the boat rocking. If you ever wanted your fringe ram-rod straight facing the wrong direction, it's the perfect thing.
It's so hard to not give in to a Bond pun or two so forgive me now for saying that we arrived at the 02 shaken, not stirred. 
We were at the 02 to climb it. All the way across… and I don't have any pictures of this because we were in blue boiler-suits, harnesses and being lightly rained on.. those pics have no place on a beauty blog! But, it was so much fun… and very steep, both up and down. Once you are harnessed up, you are then attached to a wire with a (am realising now that I have no idea what the technical terms for these are, so bear with me…!) thing that needs pushing though a lock system every couple of metres. So as well as a very harsh incline and decline (my thighs, my calves…) you have this locking thing and it is really hard work! The climb takes about an hour to go up, stop at the top to admire the view and then to go down again and it is knackering! 
We had a delicious lunch at the 02, with Apple Martinis to kick off with, and lavender and white chocolate mousse for pudding to reflect the ingredients in 007 before cars came to pick us up to take us home. Because I live very near by, it only took about five minutes to get home and I might have had to go for a three hour power nap ;-).

Interestingly, since the James Bond 007 fragrance went live on the Harrods website, it has been flying off the virtual shelves. It might not seem an obvious fragrance for the UK market, but it really is very good… kind of, well, warm and manly, and surprisingly traditional. Top notes of apple, bergamot and geranium over lavender, cardamom and rose thorn (what even is that?) and a bottom line of vetyver, patchouli and sandalwood make a very masculine, wearable eau de toilette. Find it HERE
Transparency Disclosure
All products are sent to me as samples from brands and agencies unless otherwise stated. Affiliate links may be used. Posts are not affiliate driven.