I popped along to see the Spring Collection presented by Terry de Gunzburg (creator of YSL's Touche Eclat) herself this morning. It takes a little while to tune your ear to her heavy French accent, but once done, she is absolutely fascinating. It occurred to me while I was listening to her talk so passionately that mostly consumers don't get this hands-on experience with the brand founders and it's a shame because a personality can completely change your opinion of an entire range.
I like By Terry but don't 'love' By Terry; but by the end of the presentation I'd suddenly started to think that all I ever want to use is By Terry! When the thought, care and hours of formulating become real before your very eyes, a brand stops being just another in a line up of thousands and starts to live as an ethos and an entity. I knew that Terry was fond of roses; it's a continuing theme throughout the By Terry skin care range, but did not know that she alone holds the patent to use rose plant cells in skin care.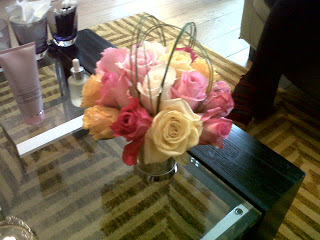 To be honest, I'm going to struggle to tell you what they actually are even though I have it written down in front of me; it's very technical.. but a biotechnological process that extracts a rose's cellular composition without genetic manipulation.. to result in a purer active ingredient. I know.. I don't really get it either so I won't dwell. However, the latest skin care product, Huile de Rose Nutri-Regenerating Firming-Lift Oil is the sweetest thing I've had on my skin for a very long time. Lightweight, beautifully fragranced and easily absorbed, I'm totally prepared to believe it will deliver.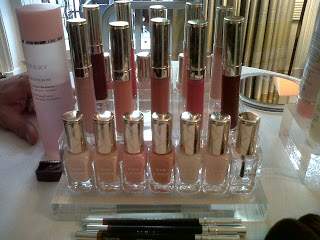 By Terry Spring 2012 Passion Pastel
I'm on much safer and happier ground with the make-up, but again, unless I'd been sat down and told, I'd never have realised that all Terry's make-up has proper skin caring benefits; it isn't just a question of a dash of Vitamin E so it qualifies as a skin beneficial make-up brand – there is so much in it that it will deliver real benefits. For example, the Gloss Terrybly Shine Hydra Lift Lip Lacquer contains Kiss Me Quick extract (yes, it does exist!) which stimulates collagen, fibronectin and fibroblasts to plump and volumise, Dehydrated Hyaluronic Acid Microspheres to rehydrate and Ceramides to boost cellular cohesion, which in turn increases firmness. It's basically skin care with colour. Even the nail polishes have Okoume resin plant extract to restructure Keratin and fill the nail surface to it looks properly smooth.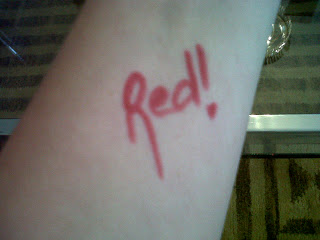 The Perfect Red.. Rouge Can Can Lip Liner
The trouble is, when you use high tech actives, nobody really knows what they do to help unless they read about it somewhere and even then it has to be explained in a way that is meaningful. My press releases here are packed with information that is either not translatable to anything meaningful to the consumer or is so full of information that you can barely reduce it down to the space available. It's totally not the PR's fault – it's their job to arm with information but it's a scattergun approach used by lots of brands in the hopes that even a little bit will filter through.
I feel for brands like Terry's where people buy ad hoc without really knowing quite how much has gone into them, when the very reason for buying should be about that – but I don't know what the answer is. 
There are a couple of exciting foundations launching in January that I will post separately about later.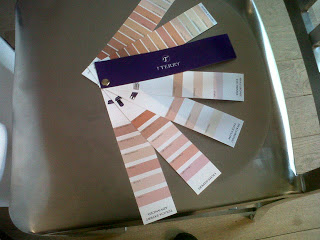 Colour Charts!
Transparency Disclosure
All products are sent to me as samples from brands and agencies unless otherwise stated. Affiliate links may be used. Posts are not affiliate driven.