I'm really not one for celebrity fragrances and I'll 'fess up from the start that I cannot bear the smell of this one mainly because it is a vanilla drenching, and I am not a fan of vanilla at all. However, I know that I'm unusual in not liking it, so because of the hugeness of the vanilla in Cosmic Radiance, it might appeal to some readers who love the warmth and intensity of it.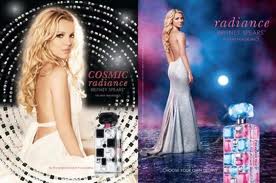 However, what is more interesting about any of Britney's fragrances is the sheer scale of sales – they are nothing short of phenomenal. According to some reports, collectively they've sold over 1 billion bottles in five years, which translates to 1.5 billion dollars to Britney. Actually, as I'm reading this, it is starting to sound very unlikely.. but every single site I've researched backs it up. Wow. 
Actually, I was taken by Elizabeth Arden (who holds the Britney fragrance license) to see Britney perform at the 02.  You might have already read some of the reviews of the concerts. I'm really not a big concert goer but thought Britney might be fun and while it is a huge splash of a show with some incredible choreography, I felt a little sad for the husk of a person that is Britney Spears. She's like the world's most beautiful robot, just going through the motions, tired, lacklustre and on auto-pilot throughout. Everyone knows she's had her issues and I kinda wondered if she really wanted to be on stage, miming and half heartedly walky-dancing through the show. She didn't seem like someone with a choice.
Transparency Disclosure
All products are sent to me as samples from brands and agencies unless otherwise stated. Affiliate links may be used. Posts are not affiliate driven.