After years of sticking pretty much to the same make and model of bra, I've branched out this last fortnight and ended up with three new bras. It's something of a revelation to discover that the size that I have been wearing for at least ten years appears to be entirely wrong. And yet, I cannot say that my size has dramatically changed one way or the other. It really hasn't.. I can still sleep comfortably on my front..there has been no obvious expansion, and yet the label says nah.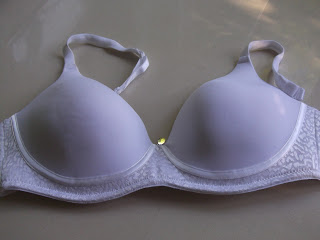 The first, the M&S Amazing Illusion Bra, £19.50, was sheer guess work on my size – I reckoned on a 34C because that is what I've been for years. It's a non-wired bra that behaves like a wired one (and it has to be said, feels like a wired one, too) and gives you masses of oomph. But crikey, it's a contraption. There just seems to be an awful lot of it. It's also got padded cups which gives that generic no-nipples-dome-tits look that I used to madly envy American girls for but now I think, hey, what's wrong with a bit of nipple outline on a cold day? In my view it is over-padded (there is no lift in the padding). It does however give you the illusion of one heck of rack with a cleavage you could park a bike in. On that level, it scores pretty highly. It's a strange thing really: it does live up to the illusion title, but it's not one that I felt comfortable with.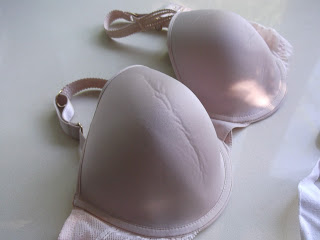 (excuse the creases.. bad folding on my part and the bra doesn't come like that)
The next is a Chantelle C Paris T Shirt Bra in a 32E (underwired). And yes, I was properly measured in Selfridges for this one as a customer and bought it myself. It's £41. These are known as 'intelligent bras' because they mould to your shape, but again.. my boobs look absolutely massive. And rigid. It does fit, it does exactly what it is supposed to do, it feels comfortable and yet I feel as though I'm walking around with someone else's breasts sticking out in front of me. It's a massive bra at that size, and yet it fits. I am totally confused. It's also dome-y with no hint of a nipple but it has far less padding than the M&S one. The straps on this bra are the thickest of all and I don't really like a thick strap. The ideal is a thin-strap, no fat overhang over the sides.. that matters to me…and just not too much of a massive cup. My boobs are comparatively small, no matter what the label says, and I am totally fine with it so it isn't a requirement particularly to make them appear much bigger.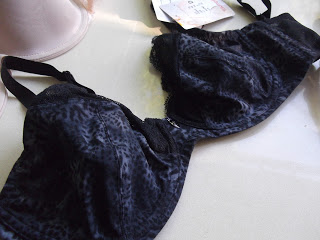 The third one, I was fitted for at a PR event, and believe it or not, it's my favourite. It's the Triumph Shape Sensation Lovely Sensation, £36, in 34D. I will say that the fitting lady was all for wrenching me into a 32D but I can't stand the sense of binding around my rib-cage so we negotiated – if it was to be the absolute correct fit, I would be a 32D but barely breathing. This particular bra doesn't have any padding and is underwired. It gives me a good, natural shape and yes, on a very chilly day I might have to fold my arms across my chest, but the relief from drone domes is worth it. Insisting on a slightly looser fit means that I don't get the overhang thing that appears under your arms if you are wrenched in and if the pay-back for that is a bit of ride-up, well I can live with it. As it is part of the Triumph Shapewear range, I was tempted into trying a full body shaper with built-in bra. Holy cow. I could not get that thing on, neither over nor under, and while the (very lovely) fitting lady was out of the room I was half strangling myself and dislocating a shoulder. I am now full of admiration for anyone who wears full body shape wear because I have no clue how it goes on and off. I also don't know how they eat, breathe or move. 
It seems that there is no one standard size across the brands for anyone so always get measured. But, I would say that being correctly measured can also mean that you are pretty well in bondage with your bra thereafter. Bra fitters focus entirely on what the bra is doing with your boobs…but breathing isn't optional…so be brave and say it is far too tight if it is and trade off with the ride-up – which actually hasn't happened at all so far.
Transparency Disclosure
All products are sent to me as samples from brands and agencies unless otherwise stated. Affiliate links may be used. Posts are not affiliate driven.