Have rounded up some of my favourite beauty bloggers for a speed review of mascaras..here's what they had to say.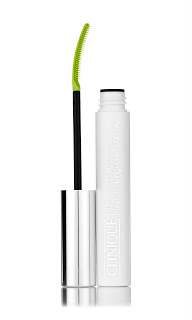 www.mizzworthy.com put Clinique High Lengths Mascara to the test:
I was sent this mascara in the shade Black/Brown – I am assuming this is also available in black and brown, however I am not sure if other colours are available, such as plum.
The product promises –
"Clinique's most lengthening and lifting mascara yet – Stretches lashes to unrivaled lengths, with beautifully defined separation"
They say this mascara achieves this with a combination of the "Green Willow Wand", and "Lengthening and Conditioning Ingredients…
The wand itself is indeed green, as you can see. It is also curved and looks more comb-like than brush-like.
The mascara contains Sodium Hyalauronate, Panthenol, and Pantethine to maintain lash health and flexibility. They describe the formula as lightweight in order thicken and create a flexible texture.
My thoughts;
Upon first opening this mascara, I was a little taken aback by the design of the brush, and was worried this would be a fiddly one to apply. To be fair, unless you use mascara's with this type of wand on a regular basis, it might take a couple of attempts to get used to it. Once you have the hang of it though, its easy to apply, and the absence of a big brush means that you are less likely to create a mess (like I often do with fat brushes).
I was pleasantly surprised by this mascara. I have pretty spindly lashes, and I like length and separation – this mascara achieved both. Personally I'd have preferred this in black, however I was actually surprised how flattering the black/brown shade was. The other thing I noticed was how flexible this felt on the lashes – I have been using this for a week now, and I have noticed my lashes have not had that "crispy" feeling they get from most mascara – they feel quite soft, and flexible…
In terms of the look achieved by this mascara, if you are after a volumising mascara, this might not be for you, as it gives more of a "realistic" style of volume, than a full on false lash style. I loved the lack of clumps, and really liked the finished look. I also thought this was a really well priced mascara for a premium brand such as Clinique.
Verdict – great for lengthening and separating, rather than major volumising, well priced, and worth checking. This has actually piqued my interest in taking a closer look at some of the other mascara's in the range. £14.50 from 1st Feb.


www.Londonbeautyreview.com tried Bobbi Brown Everything Mascara
Bobbi Brown's Everything Mascara is presumably named because of its claim to "lengthen, thicken, and define for maximum fullness", which is pretty much everything you could want out of a mascara. And I would certainly agree with the name, but for different reasons: with this one tube, you can get a variety of looks by varying the number of coats. The first coat gives a natural effect, suitable for the most subtle of day looks; the second adds a little more drama; the third coat takes lashes to full-on night time glamour.
Not only does it look good, it feels good too: the lashes are left soft and flexible, not crunchy, and hold a curl for most of the day. Despite the fat, deeply bristled brush, it's hard to mis-apply and make a mess on your eyelid; the brush comes out of the tube just lightly coated with mascara. And the wear is great; I saw no flakes or smudging until I'd been wearing it for a good 16 hours, which is an admirable performance.
If, like me, you like full-on lashes at all times, then the three-coat-layering thing is probably going to be too much effort to bother with every morning, however good the wear. If you're the kind of person who varies the amount of mascara you use, you'll probably like this, as it really is everything in one. £17.50.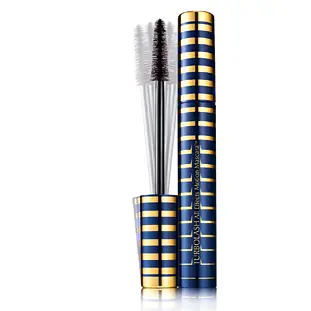 www.GetLippie.blogspot.com reviews Estee Lauder Turbolash All Effects Motion Mascara in limited editon Shade Turbo Black
Decades of mascara innovation of the Bigger Brush! Smaller Brush! Longer Brush! Shorter Brush! Comb! Brush with a Comb! variety has lead the men in white coats to bring us Vibrating Brush! mascara. How do I know it's men who invented this? Simple! It's because up until now, the buttons that cause the wands to vibrate have been at the wrong end of the handle.
Estee Lauder Turbolash All Effects Motion Mascara TM in limited editon Shade Turbo Black solves that problem with a clever cap design – some people might say it's a bit too clever, as it may have taken this reviewer a full three attempts to figure out how to open it in the first place – but suffice it to say that they have hit on a genuine improvement on button-based vibration systems.
The wand itself is mid-size, and the formula is thin, meaning no clumping and the mascara lasts well throughout the day with no flaking or running. Sadly, Get Lippie was disappointed with the exceedingly natural-looking results, as she prefers a more full-on tranny look from her mascaras, but this is something that may not bother other people.
Turbolash has extra black pigments, promising the blackest lashes ever. This just begs the question "How much more black can it be?" well, the answer is a bit more black, actually, as it didn't seem any more black than any other mascara. As with other vibrating mascaras, it's hard to see precisely what the vibration adds to the experience except itchy fingers. It's a cleverly, and prettily, designed tube of mascara, but the contents don't entirely live up to the price tag, I'm afraid. £28.50 from March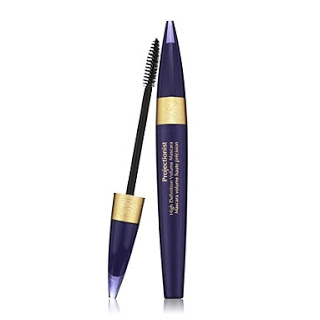 Estee Lauder Projectionist Blacker Than Black Limited Edition in Jet Black by www.Lesalondebeaute.blogspot.com
I do really like the Estee Lauder mascara packaging. It's so pretty and it feels really well made. I'm also a fan of a lovely long handle on the brush, which this definitely has! I feel like it gives me more control and I'm able to get coverage on those hard to reach lashes without being in danger of getting mascara from the wand on my face.
The brush is a lovely regular style brush that is really well constructed. It's nice and firm and not one of those nasty plastic style combs. And it's really nice and springy. I'm sure it's this that gives the lashes their great definition when you apply the mascara
This definitely does what it promises in that it gives you inky black lashes! I love that! Actually, I really liked the product as a whole. It doesn't give any extra length or volume. It just gives you lovely inky lashes without any clumping or clogging or any of those nasties. It's a great every day mascara.
The staying power is great. Most mascaras end up under my eyes and help me out in my famous panda impersonation within hours. The Projectionist didn't do that at all. The only other mascaras I've loved in that respect are Hourglass and L'Oreal Double Extend Beauty Tubes. I'm assuming the Projectionist is a little less expensive than the Hourglass and it's a much nicer texture to wear than the Beauty Tubes.
The only thing I'd like from this mascara is some water resistance. I was crying because my hand injury was really hurting me and got up to make myself some tea. Boy did I get a shock when I saw my reflection in the mirror when I walked past on the way to the kitchen!!!! The mascara was all over my face! n saying that, I was really naughty last night and wore it to bed and it didn't budge a bit.
If you're in a position to pay the asking price for this I'd definitely recommend it as a purchase as it's wonderfully reliable and does everything it says it's going to do. £18, on counter from 29th March.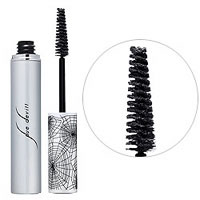 www.Henessy85.blogspot.com tries this one:
Sue Devitt Black Widow Mascara with Orchid Extract.
This mascara is from the Microquatic range which claims to condition and hydrate your lashes with vitamins, pro-vitamins, orchid extract and beeswax whilst Hydrolyzed Keratin Protein, film formers and clay derivatives make them appear fuller, longer and shiny.
At first I wasn't too sure what all the ingredients meant or the advantages of having them in a mascara but I can definitely say that the ingredients work as my lashes have never felt so soft with mascara on before. After application my lashes felt like they were still moist despite being dry which I loved as it added to the soft feeling even after wearing it for several hours. I found this to be great advantage as my lashes can be brittle and sometimes end up clumping together when applying mascara. However, this did not happen at all; instead my lashes felt hydrated and looked fuller without any clumps.
At first inspection I was quite disappointed at the shape of the brush as it reminded me of a typical classic brush with no 'extras' such as a comb, bendy brush or rubber bristles that I have now become used to. However, once I had gotten over the brush shape and took into consideration Sue's application tips found on her website (www.suedevittbeauty.com) I didn't have any problems applying the mascara.
As I tend to wear a lot of high street brand mascaras I have noticed that the majority of them usually have a weird smell to them but this was not present with this mascara which may be credited to the natural ingredients used in the formula. I tried the Black Chocolate colour which is dark brown in colour and I was quite unsure of this as I have dark lashes and thought it would not show up on me but after application my lashes actually looked black in colour, maybe not as dark as a jet black colour I would normally go for but dark enough to stand out.
On a negative note I did find that even though the mascara claimed to lengthen lashes my lashes did not look any longer in length after application. Overall I am very pleased with this mascara and would recommend it especially for its conditioning and hydration qualities.
Currently only available at Harvey Nichols £17.50
Transparency Disclosure
All products are sent to me as samples from brands and agencies unless otherwise stated. Affiliate links may be used. Posts are not affiliate driven.