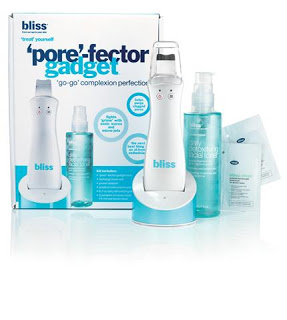 I've had three good goes with this new gadget (not yet launched in the UK) and one thorough go on a thoroughly unwilling male victim…er, tester. I'm sort of baffled by it – the Porefector is a neat and compact looking machine with a kind of silver metal trowel like device at the top. Once you switch it on, the trowel vibrates, and it is these sonic vibrations that are said to 'improve the complexion and clear pores'. Maybe it depends on quite how bad said pores are – I don't have blackheads but do have some open pores on my nose and on my chin (eek, I feel like I'm oversharing here) so concentrated on those areas. After blotting on Bliss Daily Detoxifying Facial Toner, I followed website instructions and made a kind of scoopy motion with the trowel over nose and chin. Now, the skin definitely looked more refined, but I can't hand on heart say that my pores looked reduced or cleaner. And yet, according to the Porefector official stats 100% of people disagreed with me! See stats:
After 1 use, testers reported a statistically significant*:
– 100% felt the tool cleansed their pores.
– 88% felt the tool left skin deeply cleansed and fresh.
– 82% felt that their pores appeared less prominent.
After 1 use, a statistically significant*:
– *12% increase in depth of pores, indicating cleansing of the pores.
– *4% increase in diameter of pores, indicating cleansing of the pores.
*Results reported from an independent clinical study. Individual results may vary.
I'm just not sure one home use is measurable in the way the studies clearly measured it. After another two goes, I still stand by what I say – skin looks refined but doesn't feel or look any different pore-wise. If you flip your gadget round and use the other side of the trowely-thing after applying moisturiser, it does seem to drive the product into the skin very effectively with no residue left on the skin.
My unwilling volunteer does have some blackheads – and despite a good session with Porefector, still has them. I'd say on him, the gadget did take off a surface layer of oil around the nose and left the skin certainly looking cleaner, but if you are hoping to use this as an alternative to manual extractions, I think you'd be disappointed. I should also point out that Bliss don't really claim that it digs out blackheads or anything, but theres a kind of implication in the blurb that it might. I'd say all in all, it does clean and clarify the complexion, and it does subsequently drive moisturiser into the skin effectively, but it isn't a miracle pore buster.
One thing I must mention is that when you use Porefector – particularly along the cheek bones, it makes a whining noise in your head/ears – it is not pleasant….I also have a nose piercing and it makes the same high pitched noise when it passes over that. No idea what that's all about.
I will stick with it a little longer to see if longevity of use makes any difference and report back if I'm pore free and perfect!
Transparency Disclosure
All products are sent to me as samples from brands and agencies unless otherwise stated. Affiliate links may be used. Posts are not affiliate driven.