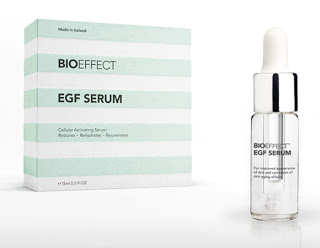 I kind of have a despairing moment when I'm told of new products that have such very scientific roots that I know I won't be able to understand it. There's a little bit of snobbery in beauty journalism – the more you 'love' science based products, the less of an airhead you are deemed to be, even if your core subject is lipstick. Since I really couldn't care less about trying to intellectualise my passion for beauty, I'll stick my hand up and say I'm much happier writing about lipgloss.
However, it's wrong to exclude something on the grounds that I struggle to grasp the concept, and I do think this product is something very special, based purely on the fact that other major cosmetic companies were super keen to get their paws on the ingredients. I kind of love the fact that instead of selling out, the boffins behind BioEffect EGF at Sif Cosmetics decided to go for it on their own, and therefore bypassed the larger beauty brands' chancer bids. So, I'm going to approach explaining this in the barest of words for fear of screwing up on the science, and in any case, it is explained so perfectly on the BioEffect web-site, there's kind of no need.
BioEffect EGF Serum really has caused a storm in Iceland where it is made with 17% of Icelandic women now using it. EGF (Epidermal Growth Factor) is a natural protein produced by our own skin cells to keep the skin healthy and acts as a cellular activator, allowing cells to renew quickly and effectively. It's a very difficult thing to reproduce EGF in a way that can be used in skin care (and I've heard some horrible stories about other EGFs being produced in the livers of mice for skin care – er, no thanks guys, I think mice have better things to do), but Sif Cosmetics have found a way to use Barley as the host though biotechnological methods (translate that to a large greenhouse somewhere in Iceland).
I've been using the serum for a few days now – you should allow six weeks to start seeing the effects, which are promised as: luminosity, a more even skin tone, wrinkle reduction and rejuvenation. Give it longer for the de-wrinkling effect, but I've seen some very impressive before and after pictures. As the skin renews as a result of BioEffect EGF, collagen and elastin increase. As someone whose collagen is disappearing fast, this is a definite plus. The serum comes as a clear, slightly viscous liquid that doesn't interact with foundation to form those horrible little squiggles and that's a major advantage. It sits on the skin rather than feeling as though it disappears into the skin, but because it has a very silky texture it feels rather lovely. I'd say using it under foundation gives skin an extra kick of dewiness immediately.
Okay, so the bottom line of this review is that I would say definitely give it a go – I might not have grasped the intricacies of genetic modification – but I do know hope in a jar when I see it. And, I say give it a go because BioEffect EGF is doing a spectacular sampling campaign, rather than use the traditional advertising route. If you click on the link here www.bioeffect.co.uk/discover/, you'll be sent a sample worth £30 (rrp for the full size is £125). And if you do trial it, please let me know what you think.
Samples to UK and Ireland only for now.
Transparency Disclosure
All products are sent to me as samples from brands and agencies unless otherwise stated. Affiliate links may be used. Posts are not affiliate driven.