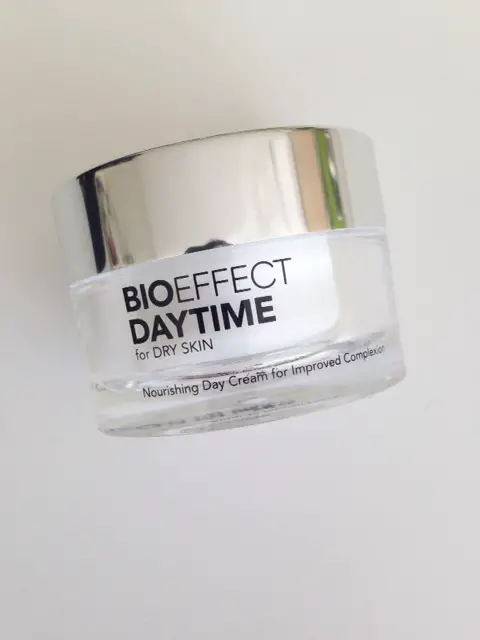 If you've read my blog for a while, you'll know I rave and rave about BioEffect Serum, which doesn't come without controversy. BioEffect uses barley derived EGF (epidermal growth factor) and there's genuinely nothing like it for a whack of glow to your skin. I've looked at all the QVC reviews on this and it's a mixed bunch, so what I can say is that it certainly suits my skin. But, EGF itself causes great debate on-line – everyone has natural EGF but there is a line of thought that EGF applied to the skin can cause cells to work in different ways. All I can say is that I love this product, I feel it is safe, but you must do your own careful research and draw your own conclusions.
With that said, Bioeffect's newest launch is a day cream for dry skin. BioEffect Daytime looks like a glossy, loose cream in the pot, but actually once you dive in has more of a cold cream texture so doesn't exactly glide across the complexion. However, in terms of keeping your skin hydrated, it's stellar. I used this as soon as I got it and didn't need to moisturise again for 24 hours. For testing, I cleansed using CeraVe Cream Cleanser, and did not apply a night cream – I wanted to see how long I could hold the benefits for. I'm really impressed with it.
Checking on the ingredients, barley extract and shea butter are in the mix.. shea is a well known moisturiser and I suspect that is what is doing the work here, but it does also contain EGF cellular activator, the results of which won't be noticable on a two day trial. All I can say is that so far, I haven't had a product from Bioeffect that hasn't done good things for my skin – it seems to deliver extremely well, but do do your research first.
Bioeffect Daytime launches in September – everything from BioEffect is expensive, and Daytime is no different at £55 for a small pot. It launches in October.
Transparency Disclosure
All products are sent to me as samples from brands and agencies unless otherwise stated. Affiliate links may be used. Posts are not affiliate driven.