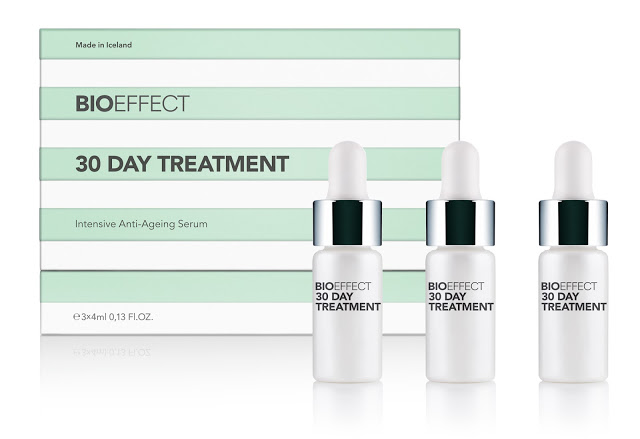 BIOEffect is the skin care I choose to use but I've taken a little break recently to try other products and brands on my skin. Gorgeous as they've been, they don't quite cut it in the same way. You have to bear in mind that not everything works amazingly for everyone and it just so happens that BIOEffect works for me. 
So, I got tempted off my BE ban with the new 30 Day Treatment (I actually trialled this at an early stage) and within three days, my skin is so much better. Literally, within 3 days. So before I start sounding like an ad for BE (not at all my intention) I'll explain the ins and outs. 30 Day Treatment is an intensive anti-ageing boost using cellular activators (to make your cells work harder and turn over quicker). The thing I am finding already is the difference in radiance – I definitely have a glow that I didn't have last week. BioEffect 30 day contains EGF (epidermal growth factor derived from barley), KGF (keratinocyte growth factor – keratinocytes are a predominant cell type in skin and KGF is said to help to thicken skin) and IL-1a (Interleukin 1a to work on elasticity). It works at triple the intensity of regular BIOEffect Serum.
Because it's an anti-aging programme, you won't need it unless you have skin ageing (think fine lines around the eyes as your benchmark) and it is recommended that you give your skin a boost once to four times a year (yes, I'll have four times, thank you).
There's loads of other science including pictures etc, but to be honest, anyone can hype up a product with words – it's in the usage that the proof comes. No point at all in having the most uber-science in the world that's great in theory but delivers pretty well nil in reality. Not so with BIOEffect – the fact that I am seeing results after three days pretty well says it all to me. I'm a returning convert and then some! 
If you happen to be on Oxford Street tomorrow (25th September 2012), the head scientist from BIOEffect is at Selfridges (in the Beauty Workshop area) to offer advice (and there is champagne). The 30 Day Treatment is also available in Selfridges but is also on line HERE. It's very pricy at £210, but I can, hand on heart, say it's one of the very few that is worth the spend.  
Transparency Disclosure
All products are sent to me as samples from brands and agencies unless otherwise stated. Affiliate links may be used. Posts are not affiliate driven.