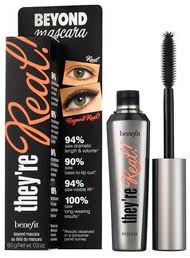 It's so easy to tell when a brand gets a new digital guru on board. Irritatingly, the film is made 'to increase conversation' about Benefit which it certainly will do, and the digitals won't really care whether this conversation is good or bad as long as it is a reportable conversation – they can package it how they like to top bods at Benefit.
So, the Real Men Don't Fake It video (HERE) involves various C list celebrity fellas with They're Real Mascaras shoved down their pants to create a 'package' that makes women (young women) stare at their crotch. All in the name of 'fun' of course. However, bearing in mind that the Benefit customer demographic is likely to be rather young (name me a teenager who wouldn't love a Benefit palette) it's actually missing the 'funny' mark. It's filmed as tongue-in-cheek, anyone can see that, but there are better ways I think to promote mascara to women than making the tubes into phallic symbols coming straight from some C lister's crotch. There are a couple of bits in the video where the female models are looking thrilled when the guys dig about in their pants at the implied prospect it might be a penis coming out. And one shot where the girl is so excited at the bulge, she can't help grabbing his crotch. Could we not make mascara anything about that, please? I'm not a prude by any means, but in my view, wrong attitude from the brand.
Benefit has always been about fun, always been a little bit flirty and incredibly good at word play and catchy names – it's wide of the mark on this. The worst thing about it is that if we 'talk about it' in a digital space as I'm doing now, it's will be seen as a win for the Benefit Digitals.
So here you are Benefit digi-whoever-you-are, a bit of conversation for you but you might like to remember this. As long as you portray teenage girls as desperate for sex and ridiculously over-excited by the mere prospect of lively penis then you've done women everywhere a horrible disservice in promoting girls as gagging for it. Well done.
Transparency Disclosure
All products are sent to me as samples from brands and agencies unless otherwise stated. Affiliate links may be used. Posts are not affiliate driven.