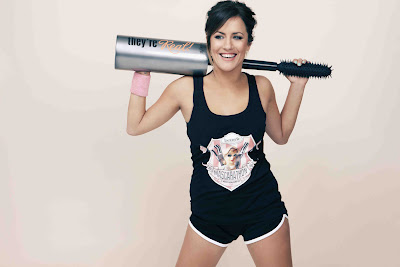 Wowzers: a run from Scotland to London? That's pretty ambitious – and no, I'm not doing it. If it was a run from Harrods to Harvey Nichols I would. Just saying. The run is to raise money for Refuge.
If you don't know what Refuge does, it offers help and support to women experiencing domestic violence. The stats on this crime are horrendous and if you're in a happy, non-violent relationship, then you probably wonder why the victims don't just leave. Well, the very important point here is that for some women, it is impossible to just leave. They're scared, worn down, their confidence has disappeared, they may have children that they'd rather take a beating for than abandon, they may simply just have nowhere to go. It's very often the case that all these factors apply. I just wouldn't want to be that woman living on an emotional knife edge every minute of every day wondering whether today is the day that the violence goes so far that you die. And that is the very stark reality for some women. They do die; and they die a horrible, violent death, preceded often by years of battering, both painful and utterly belittling. So, while we're pinning this run on the fluffy stuff like mascara, the message behind it could not be more serious. 
Refuge can only offer protection and the all important emergency bolt-hole if it has funds enough to do so. A safe place with on-going support for both women and their children for whom leaving their domestic situation has become a matter of life or death is absolutely vital. And Benefit is all about empowering women, so the partnership could not be more appropriate. Along the way, Benefit are including consumer areas including maker-upper stations and sample give-aways for runners and their friends. Caroline Flack is fronting the campaign and kicking off proceedings by taking the first two miles. 
So, how can BBB readers get involved? Well, if you don't want to run, you can donate money OR you can run and raise money that way. Whichever way you take part, everything you do, no matter how small turns into a bigger picture of changing the lives of women just like you and me who have somehow got caught in the living hell of domestic abuse. 
Click on my Benefit Mascarathon box in the sidebar to find out how you can be part of this crucial campaign. The run begins on the 15th June but you can donate right now. As an incentive, if every single page viewed in a month on BBB translated to a donation of the price of Benefit's They're Real Mascara, between us we'd raise £4,625,000. Yes, really, so think of it as buying a mascara for a friend. Let's do it.
Transparency Disclosure
All products are sent to me as samples from brands and agencies unless otherwise stated. Affiliate links may be used. Posts are not affiliate driven.