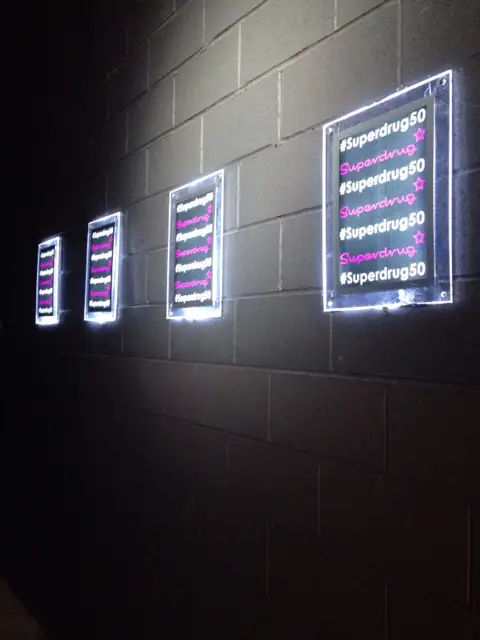 I always think what goes on behind the scenes is far more interesting than the end result, particularly when it's a huge event like the Superdrug 50th Birthday Party hosted for Superdrug by Unilever. That in itself is fascinating as I've never known a brand throw a party for a store before.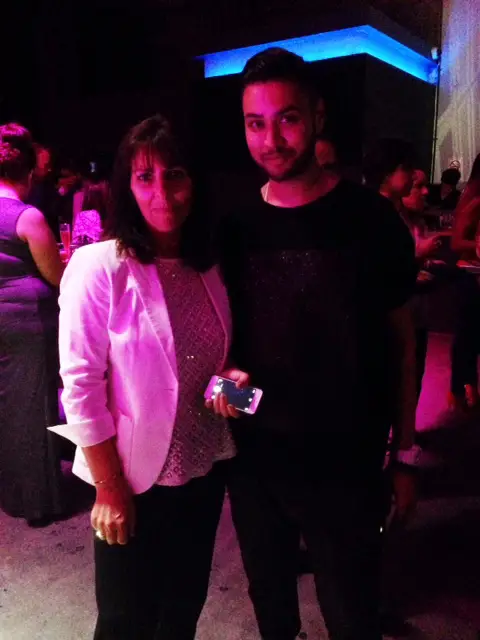 The party was held in massive vaults in South London and the 'experience' side of the event was conceived by Ryan Lanji (Nailphilia) who is the loveliest chap. I do get a bit eye-rolly with 'creatives' but Ryan is so down to earth and yet comes up with some genius ideas. The concept was a vast supermarket built within the vaults with aisle sign-posts and huge, oversized Unilever shampoo bottles (wonder where they're heading?) dotted around and a floor catwalk for a fashion show with designers from the London College of Fashion.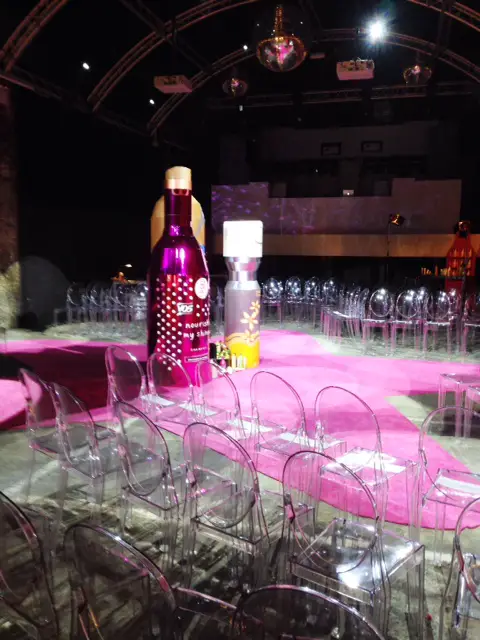 While rehearsals were going on, the models – and competition winners – were getting the glamour treatment from Cassie Lomas's team, so temporary make-up stations (complete with Hollywood lights) were everywhere.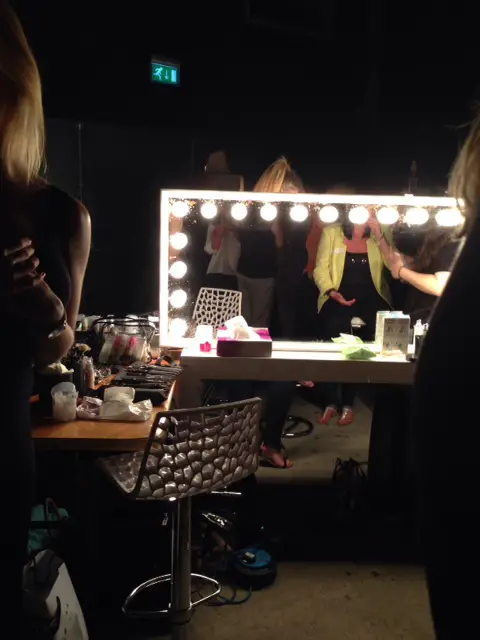 I had a little bit to do for the Dare Magazine website – interviewing Cassie Lomas, B's make-up ambassador (I work with Superdrug on the B. range, as regular readers will know) who had created two looks – one bright and bold and one very natural for the show models. As all good rehearsals have to go wrong somewhere, we had to re-think the filming and move it to the celebrity doorway because the (noisy) catwalk rehearsals went on for longer than expected. What that meant was that we had no model for Cassie to show the looks on – until Mikhila from MsBudgetBeauty (HERE) stepped into the breach and allowed us to use her face (thanks Mikhila) for filming the looks. If you can imagine, we were all squished with camera and crew into a small door-way, with the PRs who organized the event getting more impatient by the moment in case a celeb rocked up, trying to very quickly produce some content for the Dare website. Eek – I have no idea how it will have turned out!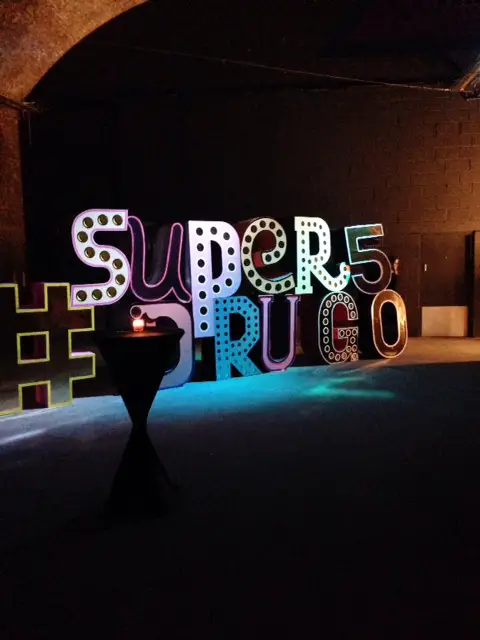 So, eventually the celebs started turning up (got to admit, even if you are paid to be there, a quick march round the room and straight out again seems like a poor effort – I would name names but I literally have no clue who she was!), and then the Superdrug guests arrived and Jameela Jamil took over the decks as DJ.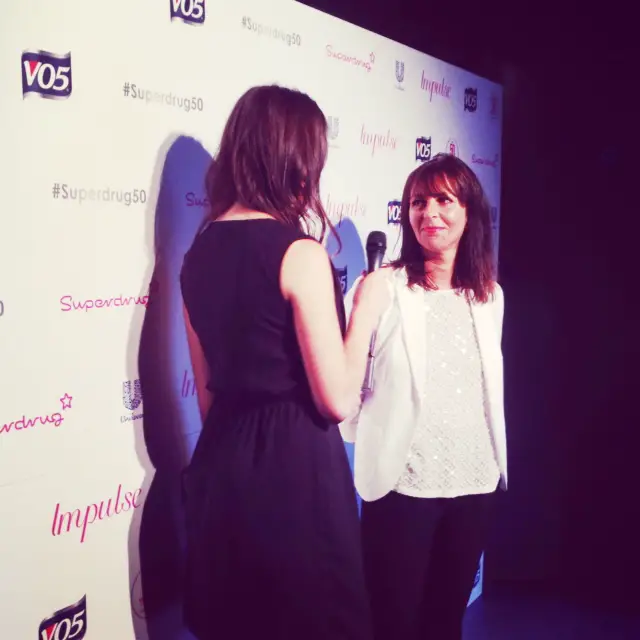 I quickly got interviewed on the 'red carpet' – there must have been a lull in celebs – but Daisie (above) works at Dare magazine and did a better job of flash interviews than I've seen many professionals do it!
So, the catwalk turned out absolutely beautifully, despite rehearsals being somewhat stressy and I've got to say, it felt like a really happy party – corporate events can be so dry, but this genuinely had a lovely, friendly feel to it despite being so huge. Sadly, I didn't see any outrageous behaviour or snap any celebs behaving badly but it wouldn't be right to end a party post without the obligatory boy band.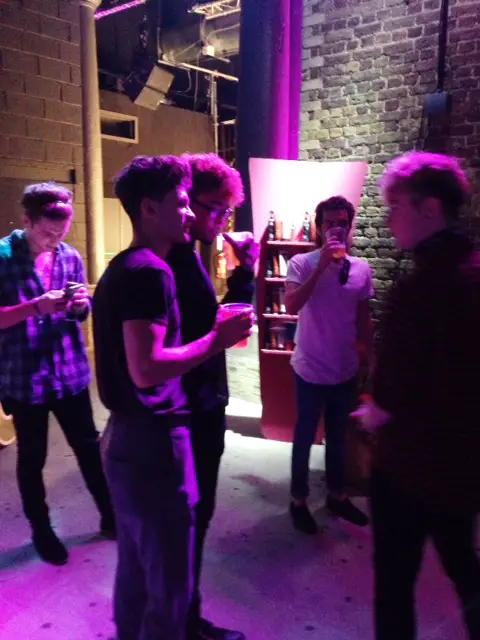 Kingsland Road. I've got all their tunes. What? I HAVE 😉
Transparency Disclosure
All products are sent to me as samples from brands and agencies unless otherwise stated. Affiliate links may be used. Posts are not affiliate driven.