I've been to lots of beauty trade shows, including this one, Professional Beauty at London's Excel centre, but I've never been behind the scenes to see what it's like for the distributors and brands. Shows like this are key for attracting new salons to use their products – a lot of the products are for salons only although the bigger brands with retail arms such as Elemis and Clarins are there, too. The halls are roughly divided into skin care (face and body), equipment, nails and everything tanning, and you know you're going to see a lot of tan if you park next to this!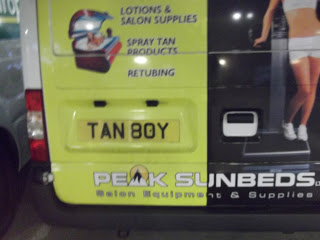 Sam Sweet from Sweet Squared, the distributors for Shellac, Minx and Glitzy Lips (who ironically is married to a Sam) invited me onto their stand for the day to take the full onslaught of behind the counter culture. Apart from the fact that my legs feel like they might drop off any minute now from all the standing, the day has been something of a revelation. For a start, I had no clue just how immense Shellac is; it's not something I get done regularly at all and hadn't put a lot of thought into whether anyone else does either. But, from the second the doors opened at 10am, people were literally running to join to Sweet Squared queue.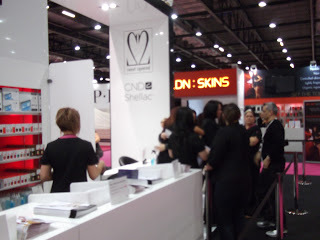 Pre open doors Team Talk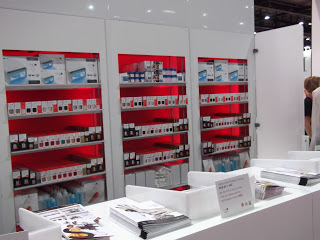 The Sweet Squared stand all nice and tidy, at about 9.50am.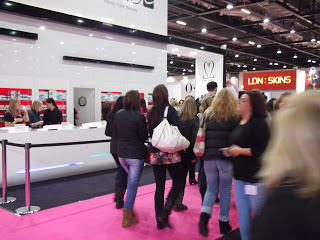 Doors open.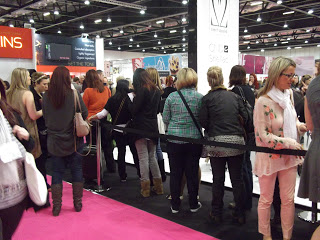 The queue at 10.02
At about 10.15 the queue is so large that a bit of crowd control is needed and other stands start complaining that our queue is blocking access to their stands. I should just say that the SS stand is massive but with so many people, security had to move them outside the hall snaking their way back through as people were served. There were eight tills that never stopped ringing – ALL day. As all the nail brands and distributors were in one area of the hall, it cannot have escaped their competitors' notice that it was all about the Shellac today.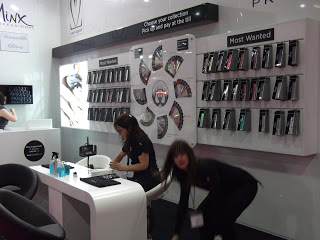 Pre-doors Minx and Glitzy Lips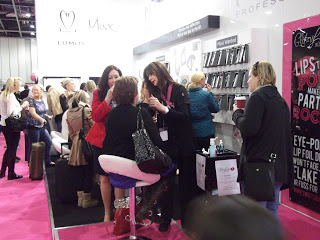 Minx and Glitzy at 10.10am.
Behind the stand is a limited amount of space, absolutely rammed with boxes of product, carrier bags and brochures. The back room crew are there to replenish the shelves and keep polish available to the sales team at all times. Shows like Excel are an ideal time to present offers, so in this instance, for example, if you bought the six new Shellac shades you'd get another polish free, and in salon businesses, every penny counts. The offers are hugely popular and I can quite honestly say I did not see any of the crew stop replenishing for even a minute, the entire time I was there – and that was all three of them literally just restocking shelves with shades.
I got the job of handing out the show offer leaflets and the catalogues to people queuing; I stopped counting after I'd given out four boxes of catalogues in two hours. Nobody likes a queue though, and there was a lot of complaining about the length of it. A popular question was 'how long will it take me to reach the tills?', which is a bit like asking 'how long is a piece of string'. It rather depends upon what the people in front are buying. "Why aren't there more tills?" was another, but eight tills fully manned with no breaks is a lot and there literally wasn't room on the stand for more. Understandably, tempers start to fray out of frustration.
At 12pm, the line was still snaking around the block and all the way outside into the main walkway. So, along with the catalogue I took the colour wheel with the new colours down the line so people could look at them properly. 
Millions of Minx!
I took a bit of time out to look at some other stands – some a bit lost in translation I think: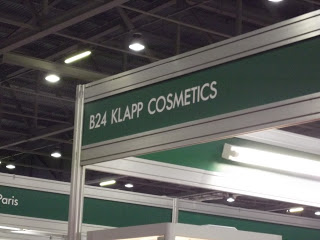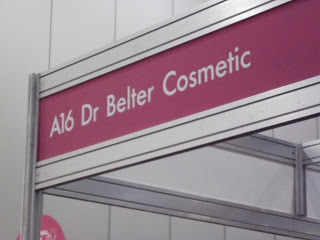 – and a quick cup of tea in the press room where Amy Childs was being interviewed (she had her own stand at Excel with her new brand of eyelashes). She had two managers and two minders.. really? On the way back to the stand, the tanners had been out in full force because there were models, men and women, beautifully bronzed, wandering around in shorts and bikinis which was somewhat surreal considering most people were in winter clothing.
So, back at base camp, at about 3pm, the queue was no longer out of the door, but still wound all the way around the stand and then some. The boxes in the back room were dwindling fast: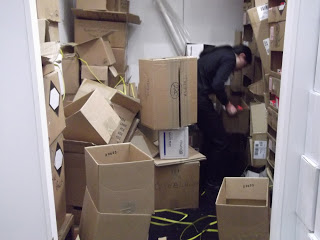 And the most important bit of kit practically on fire: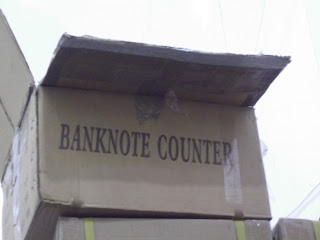 Despite being on my feet all day long, and despite dealing with frayed tempers and some very questionable manners, the thing that got me cussing under my breath (or maybe not) was the bl**dy wheelie cases that everyone drags round with them.. if I fell over one, I fell over twenty.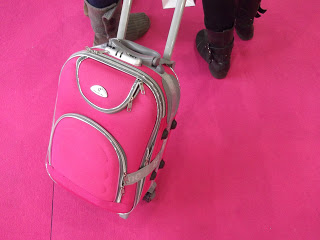 I actually wanted to wrestle this one out of her hand and throw it in the river, possibly also with its owner.


All in all, it was a really fantastic day; seeing at first hand how the trade show operates for the traders; much kudos to the Sweet Squared Team (who between them have racked up so many celebrity nails that it would read like the Oscar list) who were upbeat and positive and super-friendly through-out the day. They made me feel right at home and even as though I was being quite useful (ahem..they deserve their own Oscar for that!). I left them with an hour still to go before closing and an awards dinner to attend later in the evening. Personally, I'm in awe of their stamina! Even with a massive stash of Haribo, bagels, water and Twixes in the back room, they've all got an uncommon amount of energy.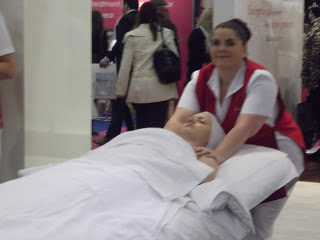 Clarins get stuck in!


There is all life at beauty trade shows; you certainly see some sights. Hundreds of brands present everything from mineral make up, bindis, glittering henna tattoos and fancy face mask to tanning booths (yes, really; they're still legal), massage tables and nail shimmer. While this was the day for salon owners and buyers, traditionally, tomorrow (Monday) is the day when all the beauty students attend, brought in by the bus-load to stock up on supplies..so if I thought today was rammed…  
My favourite observation from today though, was this sign: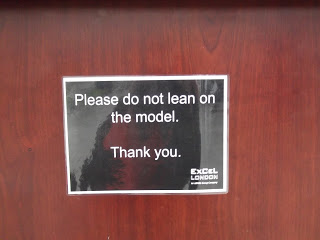 As if I would.
Transparency Disclosure
All products are sent to me as samples from brands and agencies unless otherwise stated. Affiliate links may be used. Posts are not affiliate driven.