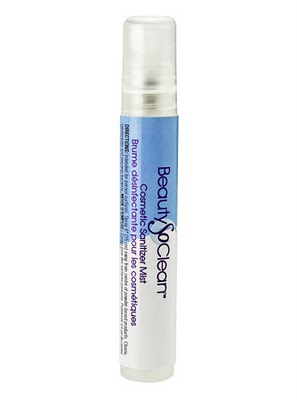 I quite often look at my make up mountain and have a pang of guilt that it's not quite as pristine as it should be (okay, okay, in some cases, downright grubby). I'm a dreadful make up hoarder and find it really difficult to throw things away and just like anything else in life, make up gathers bacteria unless it is kept clean. I'm not an advocate of the 'throw it away after 3 months' brigade – you know when something looks or smells wrong so I think you should follow your instincts and not some spurious sell by date. BeautySoClean is a new range launching soon in the UK that is an absolute boon for the germ-o-phobes – it removes bacteria on powder products such as eyeshadows and blush, as well as cream based products such as compact foundations and concealers.
Created by make up artist Nancy Crossley who tired of pure alcohol drying out her kit or altering the colours, BeautySoClean has been clinically proven (although I'm not sure by whom) to remove
Staphylococcus Aureus, Pseudomonas Aeruginosa and Escherichia Coli (E. coli). Even if you don't feel your make up warrants santizing (and I just use household cleaning wipes to keep the exterior clean but obviously these can't be used on powders and creams) think what this means for professional make up artists who are using their kit on person after person and also for the store make up displays that take a battering from people swiping their fingers over product.
It's a great innovation – takes ten seconds to work – and appeals to my inner clean fiend – especially on those 'lost in the bottom of handbag for months' items.
Transparency Disclosure
All products are sent to me as samples from brands and agencies unless otherwise stated. Affiliate links may be used. Posts are not affiliate driven.