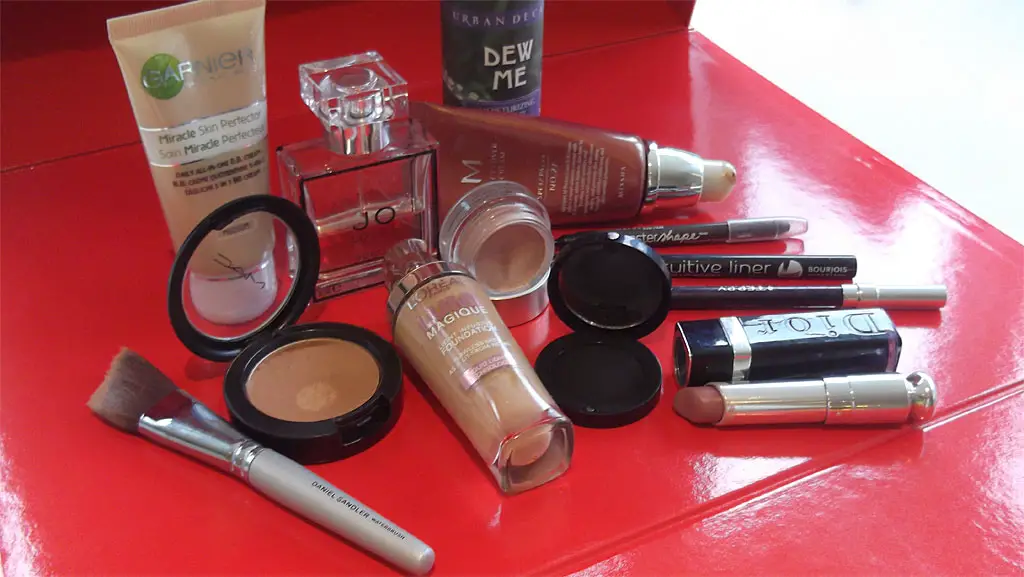 Above are the products that I would never, ever want to be without; some are new finds and others are old favourites, but this is what goes onto my face pretty much daily. They're what makes me comfortable in my skin and confident in the way I look so I have a lot to thank them for.
So, going roughly clockwise: Daniel Sandler Watercolour Brush. This is the brush of all brushes for blush; it picks up plenty of product, distributes it beautifully and wraps the cheek contours perfectly. I never thought I'd have love for a brush, but for this one, I do and I have three, just in case! MAC Sculpting Cream is a new find and I don't use it for its original purpose of contouring because I really can't be bothered. However, this shade in Pure Sculpture is the ideal blush tone for my olive skin and so, as you can see, it's become a daily staple. Next up, my favourite BB Cream from Garnier; Miracle Skin Perfector, the first and still one of the very best. It gives the right amount of illumination, dewiness and coverage for me for summer day use. I've been with it right from lab sample testing and stayed with it, so there's no more to say on that!
A quick foray into fragrance, with Jo Loves Pomelo – I am now on my third bottle and use it all the time. There's something about this scent that is a little bit addictive; it's summery, fresh and fruity and goes right back to the heart of what Jo Malone fragrances were all about at the beginning before the brand was sold and they shot off in a new direction. L'Oreal Lumi Magique is my go-to for autumn/winter foundation; it's a perfect shade match that gives warmth and a medium coverage and somehow brings my skin to life when I wear it. It's by far and away one of the better high street buys and even knocks premium brands into touch with its formulation. The new Origins Ginzing Brightening Cream Shadows are miracles for the eyes! I loved them on first use, have almost all of them and use them nearly daily. The colour formulations are soft, creamy and long-staying but most of all, they do brighten your eye-look – my eyes look distinctly more vibrant and awake when I use these cream shadows. Then, there's my lovely Bourjois Intense Shadow Pot in black – I either use it as a liner, nudged into the lash line with a flat brush; it's so black that it gives the eyes a sooty and very sexy look, or I use it over the whole lid if I'm feeling brave! I've recommended this product about a zillion times to all my friends.
The lipstick is Dior Addict Extreme in Incognito; a creamy nude shade that doesn't drain all the colour out of your face. I have mild allergies to most lipsticks but thankfully not this one. It's beautiful with a dark, smoky eye look. The By Terry Kohl is a new find for me but it is THE most intense kohl I've ever used and while it is very pricy, it is worth every penny for taking inner rim liners to a whole new level. Bourjois Intuitive Liner (with the three dot applicator) is still a favourite for getting really close in to the lashes in a way that is impossible with pencil liners, and I still can't do without the Maybelline Mastershape Brow Liner.. a little bit of brow genius at a high street price.
Finally, my Hong Kong find, Missha Perfect Cover BB Cream. I'd say this is the highest coverage BB I've found and it is far and away the best for staying-power. If you can find it, and you're a BB fan, you'll be instantly smitten. Finally, a little shout out for Urban Decay Dew Me Moisturising Setting Spray that keeps make-up on for the day – it's a slightly unsung hero in that I never think twice about it, but it's a hard worker and does its job brilliantly. I've tried a lot of primers and setting powders this year but I still come back to Dew Me, which kind of says it all.
Transparency Disclosure
All products are sent to me as samples from brands and agencies unless otherwise stated. Affiliate links may be used. Posts are not affiliate driven.