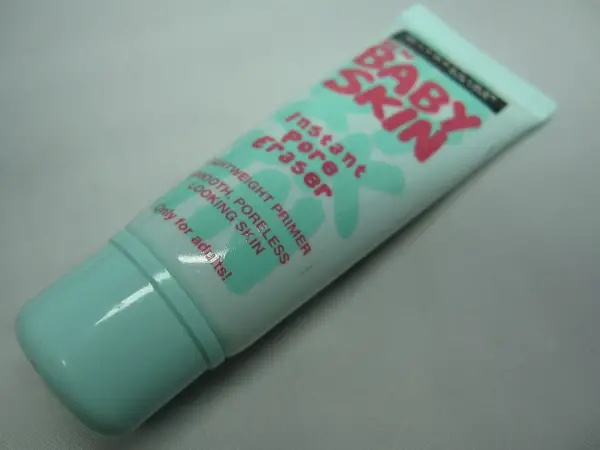 The question I've been asked most is about blurring products; in particular, Maybelline Babyskin. So, I've put several blurring products to the test to do like by like comparisons. I tried all of them both over and under foundation. It's important to see how blur products fare over foundation because without exception, they are unlikely to last you the day and will need reapplication, particularly if your skin is oily even though most are indicated to be used under foundation. I tested over the T-zone.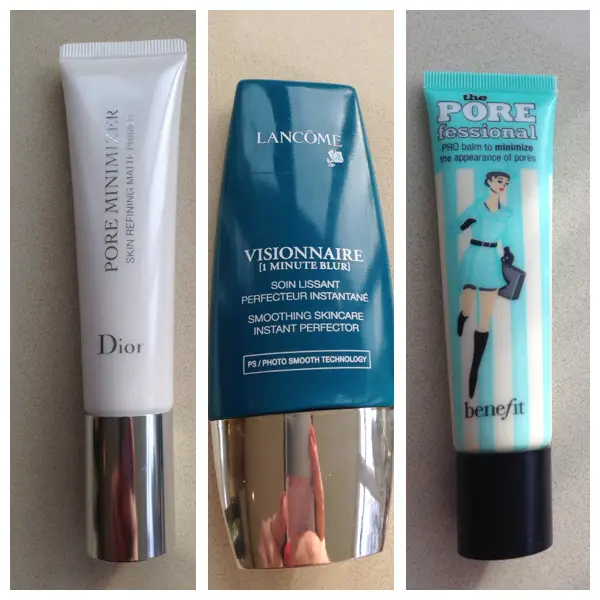 Benefit Porefessional (£24.50 HERE)
Benefit really set the bar high with Porefessional, but I've got to admit that it's feeling a little out-dated compared to newer versions. Yes, it totally does give a pore blurring effect and it has a slight tint to it but over foundation, it interacted and produced squirls (is that a word?) – those little rolls of foundation. Great for bare skin, and oil free, but clearly not compatible with all bases and went on a little chalky looking til I'd rubbed it in. I prefer their newer, powder version, Agent Zero Shine £23.50 (HERE) in a powder format that is so much easier for touch-ups.
L'Oreal Paris Skin Perfection Magic Touch Instant Blur (£8.66 HERE)
The most noticeable thing about this product is that it is thicker than the others – which makes it feel a little clunky in comparison. However, it didn't interact with my foundation, and certainly did do the pore blur that it promises. It has no tint but did appear slightly chalky. The feel on the skin is more heavy-weight than the others which is a minus because if you're applying a coating you want it to feel light.
Lancome Visionnaire 1 Minute Blur (£40 HERE)
Despite being the most expensive, this is easily the worst blur product I've ever come across. It's a clear, gel like texture that goes onto the skin leaving a greasy sheen – it feels so oily and looks like you've rubbed lard all over your face. When you wipe away the residue, yes, it does blur to a degree, but my skin shiny and blurred at the same time. A total mess of a product.
Urban Decay Pore Perfecting Complexion Primer Potion (£19 HERE)
Like Benefit Porefessional, this was a precursor to the glut of blurring products we are seeing now. Very lightly tinted, it has a chalky appearance at first – not helpful because the more you have to rub in the less 'blur' you get. It's feeling like it needs an update in texture, but it still does the blur thing really well although, in comparison, less well than others.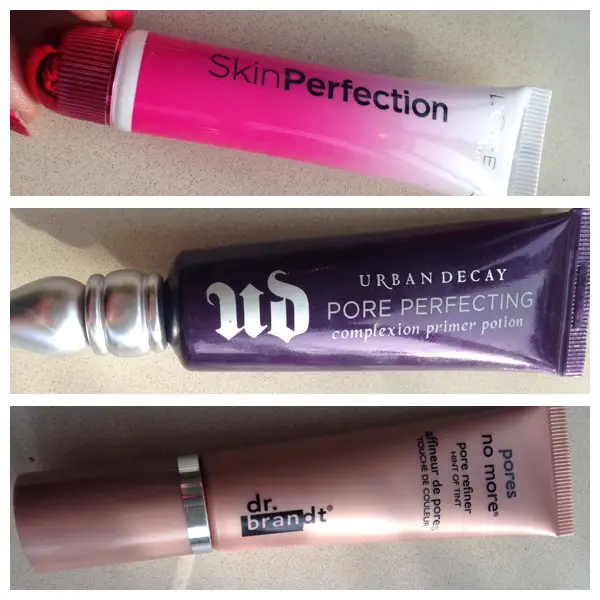 Dior Pore Minimizer (£28.50 HERE)
Yes, it's a very soft texture and the only one that comes out looking like a skin-care product (it looks like face-cream rather than the silicone blurriness of the others), but it interacted with foundation. It totally does the job though, with no oiliness, feels lighter than the other blurring products and is the one that I noticed smells like skin care. However, at the price, it's not really doing anything more, visually, than other blur products, so it's a question of budget and brand loyalty.
Dr Brandt Pores No More Touch of Colour (£39 HERE)
Again, this feels a little oily on the skin until you have rubbed it in and then there is a very good blur effect. It's tinted and I think that counts against it because it's quite dark in colour – more a summer product, I think, however, there is an untinted version. It's a best seller for oily skin because it contains tea-tree and flaxseed. It's one of the lighter feeling ones.
Maybelline Babyskin Instant Pore Eraser (£7.99 HERE) 
Being quite clear that this doesn't physically erase pores, but coats with a layer of silicone like all the other blur products, it's great value for money. The texture is more gel-like that the others, and it does pretty much exactly the same thing – feels light on the skin and blurs pores.
What you have to bear in mind is that all these products rely on a silicone based layer that coats the surface of the skin. Nothing physically shrinks the pores so they're more for disguising and mattifying than 'curing' open pores. With rumours that Chanel have a blur on the way, pore covering products are now seeping into mainline skin care ranges as standard. Other than Lancome, there isn't a truly bad one among them – they all blur your pores, most noticeably over the nose. But unless you have open or enlarged pores, you really don't need these products at all.
Transparency Disclosure
All products are sent to me as samples from brands and agencies unless otherwise stated. Affiliate links may be used. Posts are not affiliate driven.