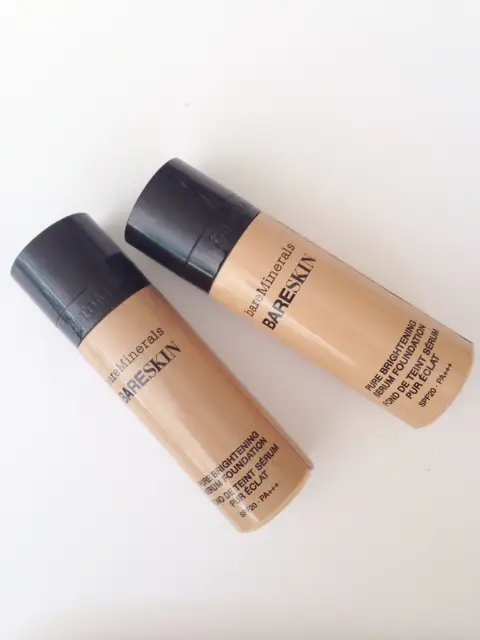 If you're a regular reader of BBB, then you'll know I'm not a fan of mineral make-up. I've tried – I really have, but they're just not for me. Any powder, mineral or otherwise makes my skin look ten years older and sort of 'deadens' it.  But, for a couple of weeks, I've been testing out a mineral product from bareMinerals and genuinely loving it.
Meet bareMinerals bareSkin Pure Brightening Serum Foundation – pretty much the answer to my mineral make-up prayers. It's the absolute opposite of matte foundation, in that it gives skin a dewy look; a sheen on the complexion if you like. It's also very forgiving with lines and wrinkles because it's so sheer.
On the skin, bareMinerals bareSkin Pure Brightening Serum Foundation feels more like skin care than coverage. It's completely oil and silicone free but if I'd had to guess at the ingredients when I tried it, I would have said it contained silicone because of the silky feel it leaves which is something I normally associate with silicones. You need to shake the foundation well before using so that the minerals merge with the brightening fluid to create the liquid foundation effect.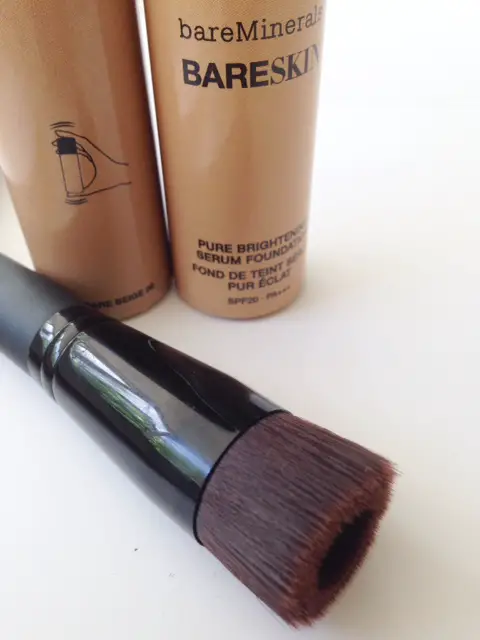 To wear it, ideally you should have the brush – a clever little tool with a well in the middle where you literally add one drop of foundation and 'buff' over the skin. You can then add more if you feel you need to and so on. The only place that I'd suggest you use fingertips is over the nose if..and only if.. you have some open pores. I found that the brush is so efficient at driving the foundation seamlessly onto the skin that it settled a tiny bit into pores across my nose. When I used my fingertips with a lighter touch, it didn't happen.
I'm eyeing bareMinerals bareSkin Pure Brightening Serum Foundation as especially good for older skin because of the serum feel and dewy look, although not excluding it for all skin age groups. I've checked over the on-line reviews (it's been out in the US for a while) and one of the critiques is that it settles in to wrinkles which I find really strange because that certainly hasn't happened for me and I have plenty of them. However, I do think application is key and, as suggested, with the nose pore issue, it may be that a lighter touch is required in some places. The brush is amazing for a seamless coverage look, but the trick is to ease off where necessary. If you have the skin of angels, then brush away!
bareSkin Pure Brightening Serum Foundation has its UK debut on QVC on 30th June for £26 and it's well worth looking out for. I'm doing a video later in the month with bareMinerals so you can see exactly how it works and I can explain more about the serum and its brightening coverage.
Transparency Disclosure
All products are sent to me as samples from brands and agencies unless otherwise stated. Affiliate links may be used. Posts are not affiliate driven.